There is just something about a sweet and salty treat that I just can't resist. It's the best of both worlds. If you are a sweet and salty combo lover like we are, then this is just the treat for you. Salted caramel brownies made with a delicious Salted Caramel Sauce I made for a friend as a "thank you" gift for being a wonderful hostess and receiving us in her house during our road trip vacations last year.
Gooey Salted Caramel Brownies
(Recipe by Wanda Lopez, My Sweet Zepol)
Ingredients:
1 box Devil's Food Cake
1/3 cup milk
1 stick Butter (melted)
1 cup walnuts
1 cup Salted Caramel Sauce
1 cup Semisweet Chocolate Chips
Directions:
Grease a 8×8 pan and set aside.
Preheat oven to 350 degrees.
Mix milk and melted butter to the cake mix.
Divide the dough in half. Press one of the halves into the bottom of the greased pan.
Bake for 8 to 10 minutes, until slightly set.
Toss the walnuts over the first baked layer. (I didn't chopped them, but you can if you wish to).
Spread 3/4 cups of the  Salted Caramel Sauce over the walnuts as even as possible.
Then sprinkle the chocolate chips over the salted caramel sauce.
Finally take a piece of wax paper (or parchment paper) and press the other half of the dough into a square shape slightly smaller than the pan you are using.
Carefully set over the chocolate chips.
Bake for 20-25 minutes. Once baked, remove pan from the oven and let it cool to room temperature.
Hope you enjoy this brownies, they have a great sweet, salty and crunchy combination and are very addictive. Bake at your own risk! 😉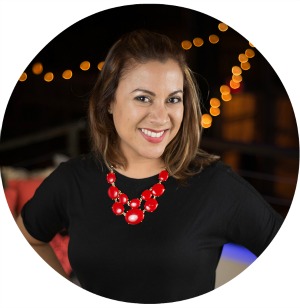 Recipe Developer / Food Photographer / Social Media Influencer
Making memories around the kitchen table and capturing them with my camera is where you'll find me. Unless I'm boarding a plane or on a road trip somewhere with my girls.