Every year during the holidays I bake a handful of pecan pies. One for my brother-in-law, one for a holiday dinner, some for put-lucks and one of them is to keep at home. I can't resist a good pecan pie with a scoop of vanilla ice cream. There's just something about the combination of a warm peace of pie and melting ice cream. YUM! Don't you agree?
This recipe is a tribute to our, so enjoyed, pie. Pecan pie granola! Which is also a perfect topping for vanilla ice cream. Granola makes a great breakfast. Just add yogurt and you will be feeling like a winner all day. Granola is also a great addition to any salad or simply on its own as a trail mix. Own your grab and go snack. Just pack some pecan pie granola on snack size zip-lock bags and they will be ready for when you need them!
| | |
| --- | --- |
| | |
Heat oven to 300 degrees.

Line a baking sheet with parchment paper and set aside.

In a large bowl combine oats, pecans, coconut flakes, cinnamon and salt.

In a small bowl mix together the melted coconut oil, maple syrup and molasses.

Pour over the dry mixture and stir until well coated.

Dump mixture onto prepared baking sheet and spread out evenly.

Remove from the oven and give it a stir.

Return it to the oven and bake it for an additional 10-15 minutes.

Remove it from the oven, give it one more stir and let it cool completely.

Note: Toss some over yogurt, vanilla ice cream or your favorite salad. Or just enjoy as is!
Another great idea is to turn this pecan pie granola into a granola mix by adding your favorite chocolate, for me that's dark chocolate, and by adding more coconut flakes. Take it with you to your next trail walk. Or enjoy it after your workout of the day. For some of us, it's a great snack for car line! Raise your hand if you are with me.
My girls are always outdoors, out and about, on practice, rehearsals, or riding bike. You can usually find them snacking on some homemade granola. What's your favorite granola flavor? Do you add chocolate, fruits or both?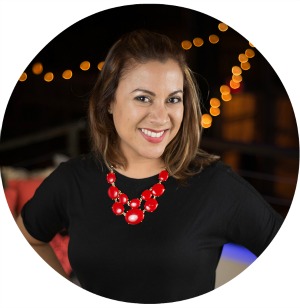 Recipe Developer / Food Photographer / Social Media Influencer
Making memories around the kitchen table and capturing them with my camera is where you'll find me. Unless I'm boarding a plane or on a road trip somewhere with my girls.