Balsamic Glazed Lamb with a deliciously sweet Boniato mash, grilled vegetables and a beautiful table setting with edible grass, jelly beans, Lyndt chocolate bunnies, fresh Tulip flowers and amazing people around it. It's entertaining to it's finest. Make memories around the kitchen table.
| | |
| --- | --- |
| | |
Season the rack of lamb or lamb chops with garlic, salt, pepper, thyme and crushed red pepper. Set aside 30 minutes to 2 hours.

In the meantime start roasting the vegetables.

Heat oven to 400 degrees.

Toss carrots, asparagus tips, brussels sprouts (whole and halves) with a tablespoon of olive oil. Sprinkle some salt and pepper.

Bake for 20 minutes tossing half way through.

While the veggies roast, lets get the glaze going.

In a medium saucepan, pour in the vinegar, salt, pepper, and brown sugar.

Bring to a boil, then reduce the heat to medium. Simmer until the vinegar has reduced by one third to half and is thick enough to coat the back of a spoon. Tip: Watch closely. If the vinegar and sugar cook too long it will caramelize and become solid.

Remove from the heat and pour in a small bowl. Let it cool. Tip: It can be store in the fridge for up to a month.

Once the vegetables are roasted, remove from the oven and set aside.

Now, for the lamb chops. Heat a skillet with a medium to high heat.

We'll be cooking the lamb chops on batches, so divide the remaining olive oil.

Pour about a tablespoon of olive oil in the skillet and once it's hot place 2 to 3 lamb chops at a time.

Cook for 3 minutes on each side for medium rare. For medium well, cook for an additional minute. Place on a plate and cover with a lid while you continue cooking.

Repeat until all the lamb chops are cooked.

Please the boniato, cut into small to medium size chunks, toss in a sauce pan and cover with water. Cook at medium heat. The boniato is cooked just like you would a regular potato or yam.

Once it's cooked, remove from the water and mashed to the consistency of your choice.

Add salt and pepper to taste. Tip: You can add anything you like, just like you would to a regular potato or yam.

Place a mount of boniato on the center of a plate. Top with two lamb chops, drizzle some balsamic glaze over and dress with a spring of thyme.

Serve with the roasted vegetables. Enjoy with a nice glass of wine (or tea).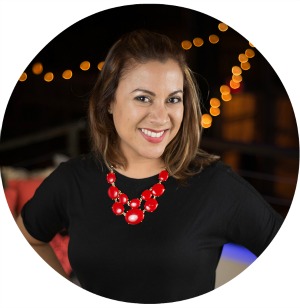 Recipe Developer / Food Photographer / Social Media Influencer
Making memories around the kitchen table and capturing them with my camera is where you'll find me. Unless I'm boarding a plane or on a road trip somewhere with my girls.