| | |
| --- | --- |
| | |
Prep a cookie sheet with parchment paper (or wax paper).

Melt white chocolate in about two - 30 second intervals in the microwave. Stir well.

Spread melted chocolate into the cookie sheet, starting from the middle. Don't spread it all the way to the end, about 8x12".

Melt the yellow and pink colored morsels in separate bowls and spread over the white chocolate. Use your imagination. I designed it as a mixed swirl. Leave some for later to drizzle over the candies.

Use about half the package of the milk chocolate candies, cut some in half (carefully). Drop them over the still melted chocolate, make sure every corner has some chocolate candies. You want everyone to enjoy a full bite of candies and each color of the melted chocolates.

Sprinkle some flowers, or bunny's, or even confetti over the candy bark. Use as much or as little as you like. I used about 1 tablespoon, since that was all I had in hand.

Finally, drizzle the remaining pink and yellow chocolate. You may have to put it back in the microwave for another 30 seconds and re-melt. Drizzle like mad and have fun.

Put in the refrigerator for about 1 hour. Cut into pieces.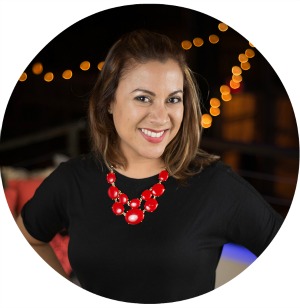 Recipe Developer / Food Photographer / Social Media Influencer
Making memories around the kitchen table and capturing them with my camera is where you'll find me. Unless I'm boarding a plane or on a road trip somewhere with my girls.