A romantic dinner for two with a His and Hers grilled sweetheart ribeye steaks. Cooked to perfection and topped with the most amazing toppings you've ever enjoyed over steaks. Spend some time with your loved one right at home. Dating made easy!
| | |
| --- | --- |
| | |
Season ribeye steaks. Let sit at room temperature for about 30 minutes.

Place the steaks on the grill and cook until golden brown and slightly charred, 4 to 5 minutes. Turn the steaks over and continue to grill 3 to 5 minutes for medium-rare (an internal temperature of 135 degrees F), 5 to 7 minutes for medium (140 degrees F) or 8 to 10 minutes for medium-well (150 degrees F).

Once steaks are grilled, set aside and start the toppings and sauces and the take and bake raspberry and almond baked brie.

For the red wine sauce, cook the red wine in a small saucepan; boil until reduced to 1/4 cup, 8 to 10 minutes. Remove from heat; add the cold cut-up butter, and swirl pan until butter is melted and sauce is thickened, about 1 minute. Season with salt and ground pepper. Serve over one of the steaks and top with panchetta and gorgonzola cheese.

For the pico de gallo simply add all the diced ingredients together and mix. Voila! That's it for that topping.

Now for the garlic browned butter sauce. In a medium saucepan, combine butter and garlic. Cook and stir over medium heat until butter is melted. Cook for 5 to 8 minutes or until butter is lightly browned, stirring occasionally and skimming foam as necessary. Remove from heat.

Top the other ribeye steak with the pico de gallo and garlic browned butter sauce. Add as a garnish any herb of your liking, optional.

For the Raspberry Almond Take and Bake Brie heat oven to 425 degrees. Place on lightly greased cookie sheet and bake for 20-25 minutes or until pastry is golden brown. Allow to rest for 2 minutes before serving. Enjoy!

Now you have a his and hers grilled sweetheart ribeye steaks. Enjoy with a glass of Salvatore Principe Cabernet Sauvignon.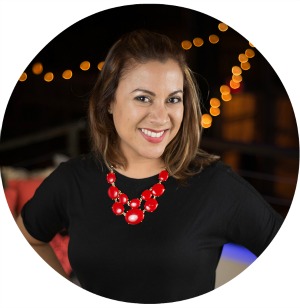 Recipe Developer / Food Photographer / Social Media Influencer
Making memories around the kitchen table and capturing them with my camera is where you'll find me. Unless I'm boarding a plane or on a road trip somewhere with my girls.