| | |
| --- | --- |
| | |
Combine 1/2 cup sugar with 2 tablespoons of unsweetened cocoa powder and 1 teaspoon ground cinnamon and set aside.

Next, mix the all purpose flour and unsweetened cocoa powder until well combined and set aside.

In a small saucepan over medium heat, whisk together the water, sugar, salt and vegetable oil. Bring the mixture to a boil then remove it from the heat. Stir in the flour mixture, mixing until it forms a ball. Let it cool a bit before working with it.

Heat 3 to 4 inches of vegetable oil in a large, heavy-bottomed pot set over medium-high heat until it reaches 375 degrees.

Using a pastry bag and a large star pastry tip start pipping the chocolate churros to your liking. They can be straight sticks, round shapes or any other shape you like. Tip: Maybe hearts for Valentine's Day! Yes, I know, it's all in the imagination. Go for it!

Another tip: I pipped the chocolate churros onto a large plate and transferred them into the oil to fry on small batches. This process made it more comfortable and easy to work with.

Cook for 3 minutes turning after 1 minute. Remove from oil with slotted spoon: drain on paper towels.

Add warm churros to sugar mixture you have set aside. Toss to coat evenly.
Make the chocolate sauces
Place the chopped chocolate in a small bowl. Each one separately or the one you choose to make. I usually make all three, but you can pick one, two or something entirely different.

Warm the heavy cream in a small saucepan, do not let it bowl. Pour the heavy cream over the chopped chocolate of choice. Let it sit for 1 minute then stir to combine.

Dip each chocolate churro into the chocolate sauce of your choice and enjoy!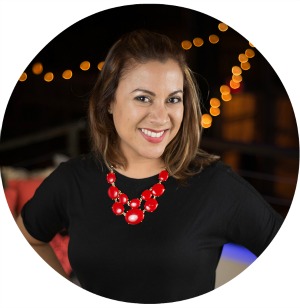 Recipe Developer / Food Photographer / Social Media Influencer
Making memories around the kitchen table and capturing them with my camera is where you'll find me. Unless I'm boarding a plane or on a road trip somewhere with my girls.