| | |
| --- | --- |
| | |
Preheat oven to 375 degrees.

Prep a baking sheet with parchment paper and set aside.

In a small saucepan cook and stir 1/2 cup of the white chocolate over low heat until melted. Cool completely. Tip: You can use the microwave. Set it to 30 seconds, stir and give it another 25 to 30 seconds, stir again and it should be all melted. Do not over heat at it will burn.

In a large bowl or stand mixer beat butter on medium to high speed for about 30 seconds or until creamy and smooth.

Add sugar, baking soda and salt. Beat until combined, scraping the sides of bowl occasionally.

Beat in the eggs, one at a time.

Add melted white chocolate and mix until combined.

At this time, add in the flour in two to three batches. Meaning add a little of the flour and mix, then add the rest. Do not over mix.

Finally, using a spatula of wooden spoon mix in 1/2 cup of white chocolate.

Using a small ice scoop, drop dough into the baking sheet leaving about 2 inches apart.

Bake for 7-9 minutes or until edges are light brown. (For me that was 8 minutes).

Cool on cookie sheet for about 1 minute.

Transfer cookies to a wire rack and let the cool completely.

Before serving. Pour the raspberry preserve in a small bowl and melt in the microwave for about 30 seconds. Stir and make sure it's melted, if not give it another 5-10 seconds.

Spoon about 1/2 teaspoon of the raspberry preserve on top of each cookie.

Melt 1/2 a cup (or remaining from the bag) of the white chocolate chips in a sauce pan or microwave, as mentioned previously, and drizzle over each cookie. Let them set.

Be a good cookie and enjoy!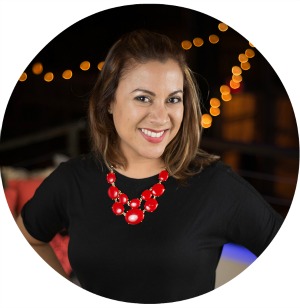 Recipe Developer / Food Photographer / Social Media Influencer
Making memories around the kitchen table and capturing them with my camera is where you'll find me. Unless I'm boarding a plane or on a road trip somewhere with my girls.