I love Biscotti, they are crunchy, sweet, most of the times nutty and so versatile to make. Any flavor combination that you love on cookies can basically be included on biscottis. Biscotti are twice baked cookies or twice baked bread as know in different countries. I love to pair my biscotti with coffee, but it works great with hot cocoa and tea.
This version of biscotti is an Almond and Cranberry Biscotti. Sweet, nutty and crunchy.
Almond and Cranberry Biscotti
(by Wanda Lopez, My Sweet Zepol)
Ingredients
2 cups All-Purpose Flour
1 1/2 teaspoon Baking Powder
1/4 teaspoon Salt
6 tablespoons Butter
1/3 cup Sugar
1/3 cup Light Brown Sugar
2 Eggs
1 teaspoon Almond Extract
1 cup Sliced Almonds
1 cup Dry Cranberry
Directions
Preheat oven to 350 degrees. Lightly grease a cookie sheet and set aside.
Whisk or sift the flour, baking powder and salt in a medium bowl and set aside.
Beat butter with sugars until smooth and creamy.
Add in the eggs, one at a time.
Then, add in the almond extract.
Slowly add the flour mixture until well incorporated. Don't over mix.
At this time start incorporating the sliced almonds and the dry cranberry. You may need to mix by hand at this stage.
Transfer the dough to the middle of the prepared cookie sheet.
Spread into a log, about 12″ long and leaving space on each side to allow expansion when baking. Smooth the top of the dough with a spatula.
Bake for 35 minutes, remove from the oven and cool for one hour.
At this stage, slice the biscotti. You can end up with 12 or 18 pieces, depending on the thickness you prefer.
For the twice baked part, preheat the oven to 325 degrees and bake for 20-25 minutes, until golden brown.
Remove from the oven and allow to cool on a rack.
Enjoy and Share!
Tip: You can dress your biscotti with some melted chocolate and give them a sweeter taste or enjoy as is.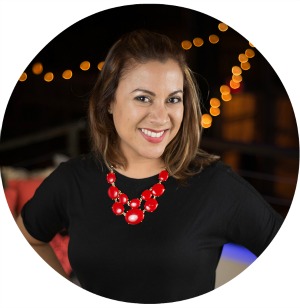 Hi there! I'm Wanda – the creator and author at My Sweet Zepol a healthy food, travel, and lifestyle blog. Passionate about food photography, food styling, entertaining and advocate about creating memories around the kitchen table. With a mission to create easy-to-make meals for the busy family.