Coconut Cream Pie is one my husbands favorite pies. I wanted to surprise him with a coconut cream pie for a long time now. Finally I came up with a great recipe, which I believe is the easiest coconut cream pie to make and that makes me extra happy. I did find a longer recipe that I will try sometime in the future and compare to this one, but for now, this is the one for me!
Almost no Bake Coconut Cream Pie
Yield: 10 servings

Prep Time: 15 minutes

Cook Time: 10 minutes

Passive Time: 2 hours

Total Time: 2 hours 25 minutes

A coconut cream cheese pie that requires no baking, except for the crust. An only 10 minute bake dessert is a win in my book!
Ingredients
Crust
1 1/2 cups Coconut Cookies
1 tablespoon Sugar
4 tablespoons Butter, melted
Pie
1 (8oz) package Cream Cheese, softened, divided
1 teaspoon Vanilla Extract
2 (3.4oz) packages Coconut Flavor Instant Pudding
2 cups + 1 tablespoon Milk, cold-divided
2 cups Cool Whipped Topping, divided
1 tablespoon Sugar
3/4 cups Coconut Flakes, optional
Instructions
Crust
Combine coconut cookie crust, butter and sugar. Press into a 9 inch pie dish.
Bake for 10 minutes. Remove from the oven and cool completely.
Pie
On a separate bowl, whisk pudding packages and 2 cups of milk for 2 minutes.
Add half the cream cheese into the pudding mixture until well combined.
Using a spatula fold in 1 cup of the cool whip. Pour into the crust.
Add the 1 tablespoon of milk you have set aside and the remaining 1 tablespoon of sugar to the other half of the smooth cream cheese. Mix well.
Fold in the other cup of cool whip into the cream cheese mixture. Spread over the pie.
Refrigerate for about 2 hours.
Toast the coconut flakes a bit, until light golden color starts to appear. Sprinkle over the pie as desired. I only sprinkled the edges.
Serve and enjoy!
I love to make desserts, it's my favorite meal (wink), but I don't want to be hours in the kitchen cooking or baking. I rather spend that time making memories with my girls. So, when it comes to cooking or baking the easiest to make the better. I believe this coconut cream pie recipe will become your favorite too. It's super creamy, and packed with coconut flavor without being overpowering. It's amazing! But, don't just take my word for it go on and make, then let me know what you think.
My oldest daughter is not a big fan of coconut, (she's a PB lover), and she really enjoyed this coconut cream pie. Just saying, (another wink)!
Share with me, what is your favorite pie flavor? Are you a coconut cream pie lover too?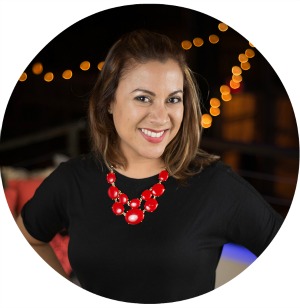 Hi there! I'm Wanda – the creator and author at My Sweet Zepol a healthy food, travel, and lifestyle blog. Passionate about food photography, food styling, entertaining and advocate about creating memories around the kitchen table. With a mission to create easy-to-make meals for the busy family.