Welcome back to my Blog Crush Series. Meet Terry from Love and Confections. I must confess that I have a huge crush with Terry's baby girl. She is precious and I can't get enough of her smiles. I love it when Terry posts pictures of her little girl. Go and follow Terry and wait til you see that smile, you'll know exactly why I have a baby crush.
I can related to Terri when it comes to the blog. My Sweet Zepol as well as Love and Confections were created to share sweets and now we are both branching out into the daily meals since we both cook for our families on a daily basis. I say to myself, "I will be cooking for my family and they love it, maybe others will love it as well", so I share them. It's really cool seeing the reactions, I feel like having friends around my kitchen table.
(Photo from Love and Confections)

How long have you been blogging?
A: I have been blogging for a little over 4 years. Wow, it seems like I started so long ago.

Is your blog a hobby, part time or full time job?
A: It was a hobby to begin with, but now that I am a stay-at-home Mom, it has become my full-time job.

How would you describe your blog?
A: My blog is mostly about baking and pastry, both sweet and savory, but I have started branching out. I cook for my family every night, so I decided I would start blogging about some of those recipes as well.

What got you to start a blog?
A: I had just gotten married and was almost done with culinary school when I started Love and Confections and wanted a creative outlet and something fun to do.

Why did you decide to blog about food?
A:  I wanted to teach others what I was learning in culinary school. I fell in love with the beautiful photos and recipes from Helene – Tartelette and decided to start. My first few recipes have the most horrible photos and are organized poorly – one of these days I am going to re-do them – and I have been learning ever since.

Which is your favorite recipe from your blog?
A: This one is hard to choose – so you choose for me!

– I love Key Limes and my Key Lime Cupcakes filled with Key Lime Curd and topped with a Key Lime Buttercream
(Photo from Love and Confections)
– One of my all-time favorite treats is Almond Croissants! You don't know what you're missing out on if you have never had them before.
(Photo from Love and Confections)
 – I love making Cream Puffs! They are the perfect bite, light dough, creamy, cold pastry cream, and the toppings can be anything from powdered sugar to chocolate ganache.
(Photo from Love and Confections)
If you could share any good tip or advise to a food blogger that is starting their own blog, what would it be?
A: You have to start somewhere, so it might as well be now. Don't be afraid to dive in get your hands dirty. Buy your own domain and host from the start – I am starting my blog transition by working with a graphic designer on my website and hosting and it is going to be a lot of work.
Thank you Terri for being part of my Blog Crush Series. Can't wait to see what you are up to with your blog and the changes that you have in plans. You are an amazing baker and I love all your confections!
Now, tell me, which one of Terry's recipes shown here is your favorite? It's going to be a tough one, they are all amazing!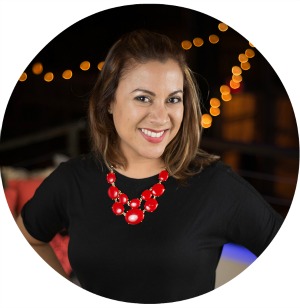 Hi there! I'm Wanda – the creator and author at My Sweet Zepol a healthy food, travel, and lifestyle blog. Passionate about food photography, food styling, entertaining and advocate about creating memories around the kitchen table. With a mission to create easy-to-make meals for the busy family.