A pan with mushrooms is sizzling on the stove, pearl onions are cooking in butter on a pot on the side, the oven is preheating, the meat is cut into chunks, all the veggies are cut and put aside, and Julia's voice can be heard in the background. My daughter is taking French and one of her assignments was to create a french inspired dish. She was handed Boeuf Bourguignon. I was giddy with excitement. Like many other home cooks, I always wanted to try one of Julia Child's recipes. This was the perfect occasion to cook Julia style.
Boeuf Bourguignon was Julia Child's first dish on her show The French Chef. Even though she was not French nor a chef, she did open the doors to every TV chef we all love and watch. She was a very tall women and people describe her as determined, loved a good party, passionate about food (with no doubt) and a teacher at heart. She enjoyed teaching what she had learned and was always interested in new chefs (or cooks). Her voice became a trademark of hers. It was high pitched and she distinctively. She was one of a kind!
Beef Bourguignon: Boeuf Bourguignon Recipe
Cook Time:
1 day
21 hours
3 seconds
Total Time:
1 day
21 hours
20 minutes
3 seconds
Ingredients
6 ounces of Bacon
1 tablespoon Olive Oil
3 lbs. Lean Stewing Beef (cut into 2-inch cubes)
2 tablespoon Flour
3 cups full-bodied Red Wine
2 to 3 cups Beef Stock
1 teaspoon Salt
1/4 teaspoon Ground Pepper
1 tablespoon Tomato Paste
3 cloves of Garlic
1/2 teaspoon Thyme
1 Bay Leaf
1 Carrot (diced)
1 Celery Stick (diced)
1 Onion (diced)
18 to 24 Pearl Onions
1 lb. Mushrooms (quartered)
Parsley (for garnish)
Instructions
Preheat oven to 325 degrees.
Saute the bacon in oil over moderate hear for 2 to 3 minutes in a pan.
Removed to a side dish and set aside.
Dry the beef in paper towels.
Sprinkle beef and bacon with salt, ground pepper and flour to lightly cover every piece and return it to the casserole. Using the remaining oil saute a few pieces at a time until browned on all sides. Cook for about 4 minutes in medium heat, this will crisp and brown the meat.
Set aside.
Once done with all the beef, remove the oil (set aside for later), add the red wine and scrape the casserole.
Then, add the beef stock (enough to barely cover the meat), tomato paste, the herbs, garlic and salt.
Cook for 4-5 minutes. Bring to a simmer.
Then cover the casserole and set in lower third of preheated oven.
Cook/Bake for 2 1/2 - 3 hours. Meat is done when a fork is pierces it easily.
In that same pan and using the remaining fat brown the slices of vegetables. Remove and set aside.
In the meantime get the pearl onions ready. Boil water, take all your onions, add to the water, when water gets to a boil again remove and peel them.
Pierce a little indention into one side of the onion.
Toss them into a small pot, add some water (about half covered), one tablespoon of butter and a pinch of salt. Heat on slow simmer, covered, for about 20-25 minutes. Stir occasionally. This can be done the night before.
Now, saute mushrooms, wipe out skillet and heat remaining oil and butter over high heat. As soon as you see butter has begun to subside, indicating it is hot enough, add mushrooms.
Toss and shake pan for 4 to 5 minutes. As soon as they have begun to brown lightly, remove from heat. This can also be done the night before.
Go check on your beef.
When the meat is tender, pour the contents of the casserole into a sieve set over a saucepan.
Return the beef to the casserole.
Skim fat off sauce in saucepan. Simmer sauce for a minute or 2, skimming off additional fat as it rises. You should have about 2 1/2 cups of sauce thick enough to coat a spoon lightly.
Taste and add salt and ground pepper as needed.
If too thin, boil it down rapidly. If too thick, mix in a few tablespoons stock. Taste carefully for seasoning.
Pour sauce over meat and vegetables (including the onions and mushrooms). Cover and simmer 2 to 3 minutes, basting the meat and vegetables with the sauce several times.
Notes
Serve in casserole, or arrange stew on a platter surrounded with potatoes, noodles or rice, and decorated with parsley.
Bon Appetit!
Nutrition Information:
Yield:

8
Serving Size:

1
Amount Per Serving:
Calories:

296
Total Fat:

12g
Saturated Fat:

4g
Trans Fat:

0g
Unsaturated Fat:

7g
Cholesterol:

30mg
Sodium:

1002mg
Carbohydrates:

17g
Fiber:

3g
Sugar:

6g
Protein:

16g
I have made beef stew countless of times, sometimes with red wine, others without. But this recipe has some unique steps that makes it a little time consuming, at least the first time around. After that, the other times you make this dish it's smoother and easier. Less time consuming. Which makes it even more appealing to make on a more regular basis. I haven't even mentioned the taste. This boeuf bourguignon is started on the stove and finished on the oven. The meat is cooked for hours. Once it is all done, is like eating butter. In a good way. The combination of beef meat, the carrots, onions, mushrooms, and red wine with the spices and garlic is like a party. It melts in your mouth and leaves you wanting more and more. It's perfection! Thanks Julia.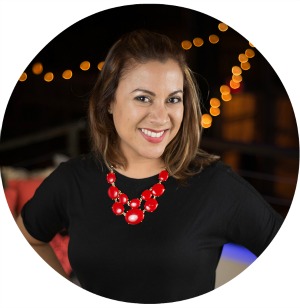 Hi there! I'm Wanda – the creator and author at My Sweet Zepol a healthy food, travel, and lifestyle blog. Passionate about food photography, food styling, entertaining and advocate about creating memories around the kitchen table. With a mission to create easy-to-make meals for the busy family.