Good eats at Marlow's Tavern fall/winter menu!
It's always a challenge to find a great place to eat when traveling, right? Here are some good eats at Marlow's tavern in Lee Vista, Orlando FL (located about a mile outside the Orlando International Airport). We were invited to sample Marlow's Tavern new fall/winter menu (available until March), and some amazing handcrafted cocktails. This menu is one you won't want to miss on.
Some of the new menu offerings and hand crafted cocktails include:
The Jet Plane – Bacardi Añejo Rum, Brovo Amaro #1, Aperol and Fresh Lemon
Beached Margarita – Herradura Hibiscus Tincture, Beach Coconut Whiskey and House Sour
Pineapple Rum Express – Plantation Pineapple Rum, St. George Spiced Pear Liqueur, and Fresh Lime
Our G&T – Empress 1908 Gin, smacked Sage, Orange, Angostura Bitters and Tonic
Don't they all sound amazing? I had the Pineapple Rum Express and loved it. It transported me back to Puerto Rico and those late summer afternoons by the beach. These are just a sample of the wide variety Marlow's Tavern has to offer by the bar. Perfect for any date night!
For appetizers, we sampled the:
Roasted Heirloom Carrots, which are whole baby carrots, drizzled with an orange honey glaze and topped with crumbled feta.
Arugula, Trout & Apple Toast – smoked trout, with baby arugula, granny smith apple thinly sliced, and pickled red onion. They are creamy, crunchy and simply delicious.
Feta & Artichoke Fondue – is made of grilled artichokes, Swiss chard, creamy Mornay, feta cheese and toasty ciabatta. We couldn't get enough of this fondue. It's too good for words!
Now, for the entrees. I can't say enough about this menu other than that it's one of my favorites to date. Specially because of what's coming next…
Pastrami Melt – made with amazing Montreal Smoked Meaty Pastrami, Swiss cheese, caramelized onions, Dijonnaise (made in house), and Deli Rye. Served with house pickles and Marlow's Tavern fries; heavenly!
Grilled Atlantic Salmon – served on a bed of jumbo couscous, baby spinach, toasted almonds and dried cranberry in a red wine reductions.
Chicken Pappardelle Stack – a dish of grilled Prestige Farms Chicken, creamy artichoke and Swiss chard, fresh pappardelle noodles, snap peas and roasted mushroom cream. Note: the chicken is organic and never frozen.
Roasted Vegetable Lasagna, which was a favorite at the table is made with sage Mornay sauce, pomodoro, butternut squash, Swiss chard and mushrooms. The perfect dish for meatless Monday's or for those not consuming meat. All I can say is that it's the best lasagna I've ever had!
Our dinner ended the best way any evening like this one can…with dessert. None other than rich chocolate cake over a warm chocolate sauce, and topped with a scoop of vanilla bean ice cream. Dreamy!
We have to give a big shout out to Joel, the manager of Marlow's Tavern – Lee Vista, and Chef Benjamin for hosting us. We all had a wonderful time surrounded by great ladies and mouth watery food!
Did you enjoy this menu? There's nothing like good eats when traveling. Now, I hope you've enjoyed Marlow's Tavern fall/winter menu. Remember, this menu is available through March. Don't miss out on it. Next time you're in town come by and check it out. Marlow's Tavern changes their menu three times a year. I'm sure you'll love them all.
Tell me, what's your favorite dish or drink from this menu? Share on the comment section bellow.
Marlow's Tavern – Lee Vista – 6889 Eagle Watch Dr, Orlando, FL 32822 – marlowstavern.com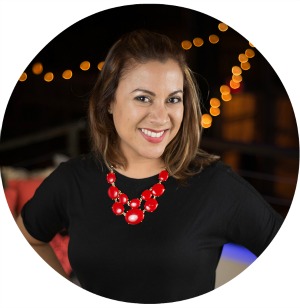 Hi there! I'm Wanda – the creator and author at My Sweet Zepol a healthy food, travel, and lifestyle blog. Passionate about food photography, food styling, entertaining and advocate about creating memories around the kitchen table. With a mission to create easy-to-make meals for the busy family.