Here it is, our first savory dish. As I mentioned in the last post, I cook mostly every day for me and my family, (and occasional have friends over for dinner), and this year I wanted to let you in that side of my kitchen. I don't just bake sweets.
After trying many recipes of sweet and sour chicken and still thinking that something was missing, I started playing with ingredients that we all love and came up with one recipe that fits our pallet perfectly. I am pretty proud of this Sweet and Sour Chicken recipe and encourage you to give it a try. Once you try it please come back and let me know what your thoughts are. Thank you!
I pared the Sweet and Sour Chicken with a fresh Spinach Salad and Gnocchi with veggies, (sweet peas, carrots and onion; to be exact). This dish was sweet, sour, fresh and satisfying.
Sweet and Sour Chicken
(by Wanda Lopez, My Sweet Zepol)
Ingredients
2-3 lbs of skinless Chicken Breast
Salt (to taste)
Pepper (to taste)
3 Eggs (beaten)
1 cup Corn Starch (add more as needed)
1/4 cup Oil (Canola or Olive Oil)
1 cup Sugar
1 tablespoon Brown Sugar (packed)
4 tablespoons Ketchup
3/4 cup Apple Cider Vinegar
1 tablespoon Low Sodium Soy Sauce
1 teaspoon fresh Garlic, finely chopped (about two cloves of garlic)
Directions
Preheat oven to 325 degrees.
Cut chicken breasts into bite size pieces (about 1/2 inch each), season with salt and pepper.
In a separate bowl place the cornstarch and on another bowl lightly beat the eggs.
Heat a pan with a portion of the oil.
Dip the chicken into the cornstarch and then coat with the egg mixture.
Lightly fry each piece of chicken in the oiled pan until browned (just a bit). Repeat with all the chicken pieces. Add canola oil to the pan as needed.
Place each browned piece of chicken in a 9 x 13 baking dish.
In another bowl combine the sugars, ketchup, apple cider vinegar, soy sauce and garlic, mix well.
Pour over the chicken, mix it well to make sure every chicken piece is well coated.
Bake for 50-60 minutes. Stirring every 15 minutes so that the chicken is well coated and cooks evenly.
Let it cool for about 2-5 minutes, serve and enjoy.
Hope you enjoy this dish and stay tuned for more sweet and savory recipes.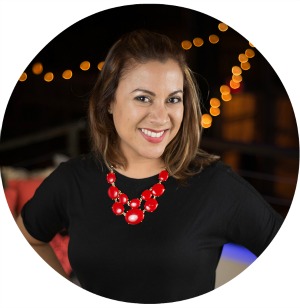 Hi there! I'm Wanda – the creator and author at My Sweet Zepol a healthy food, travel, and lifestyle blog. Passionate about food photography, food styling, entertaining and advocate about creating memories around the kitchen table. With a mission to create easy-to-make meals for the busy family.