Mocktails are fun for adults and kids alike. They are refreshing and fun to make. Here we have 7 non-alcoholic swap ideas for mocktails you will find super useful to know. Search for your favorite drink and see what swap ideas are there for the taking. Plus, share with us in the comment section below if you have any tips for mocktail drinks not shared here. We'll love to learn them as well!
A mocktail's pleasant taste, refreshing flavors and appealing presentation make it a huge hit with children, teens and even adults. As a parent, there are so many reasons to treat your kids to non-alcoholic cocktails and join in the fun of a party, especially during the holidays. You can also tweak mocktail recipes to make the drinks more suitable and healthier for children.
Two of my favorite mocktails are these virgin Pina Colada Slushie and this Refreshing Watermelon Lemonade. In fact, just add a sparkling soda of choice, and you can turn just about any juice drink into a mouthwatering cocktail, suitable for a birthday party, pool party, or any social occasion for kids.
But during the holidays, while adults have their favorite alcoholic beverages, kids can have these mocktails in hand to wait for Santa on Christmas Eve, or toast the New Year in.
What Is a Mocktail?
A mocktail is a cocktail without alcohol. You can make mocktails that imitate classic cocktails like martinis or mojitos or concoct new drinks bursting with flavor and nutrition. Instead of using liquor as an ingredient, you can mix juices, sodas, syrups, infused waters, teas, fruits, spices and endless garnishes to create festive and delicious non-alcoholic beverages. Some mocktails include flavors that mimic the taste of bourbon, gin and other liquors.
Mocktails, an abbreviation for "mock cocktails", are festive, non-alcoholic party drinks. The word "mock" implies a facade of the alcoholic cocktail without any of the alcoholic content.
7 Non-Alcoholic Swap Ideas for Mocktails
Here are a couple of mocktail recipes you can try at your next holiday gathering.
Moscow Mules
Spicy ginger beer with a squeeze of lime juice perfectly mimics the warming flavors of a classic Moscow Mule. Ask for crushed ice and a lime wedge to get the full effect, and make sure your drink is served in the traditional copper mug. If you're not keen on powerful ginger flavors, ask for ginger ale instead.
Mimosas
This brunch staple is easily replicated with equal parts orange juice and sparkling water. Ask for your virgin mimosa to be served in a champagne flute, because you're worth the extra effort. If you're bored of orange juice, shake things up a bit by ordering a different citrus juice.
Grapefruit juice contrasts nicely with heavier brunch staples like pancakes and French toast, but you may want to add a splash of simple syrup to your juice if it's too tart.
Vodka Cranberries
Also called a Cape Codder, a vodka cranberry is one of the easiest cocktails to order sans alcohol. Simply ask for a cranberry lime soda; the tartness of the cranberry and lime juice is diluted by sparkling soda water and makes for a refreshing mocktail. Throw a lime twist into the mix for a touch of elegance.
Gin and Tonics
Gin's unique juniper flavor is almost impossible to recreate in a mocktail, but a good substitute for the classic gin and tonic is tonic water mixed with a splash of citrus juice. If you'd like, ask the bartender if they carry any non-alcoholic syrups that mimic the taste of gin (you're looking for something that's flavored with botanicals and is slightly floral in flavor).
Margaritas
Any good bartender should know how to make a quality virgin margarita. The exact combination of ingredients will vary, but you'll likely be given a mixture of lime juice and orange juice. For a similar effect, you can also ask for an iced lemonade with a salted rim.
Bloody Marys
A Virgin Mary has all the flavorful ingredients of a Bloody Mary, minus the vodka. Again, each bar will have differing ingredient ratios, but you can look forward to a savory blend of tomato juice, Worcestershire sauce, horseradish, salt, pepper, and hot sauce. If you can't handle spice, ask the bartender to limit the amount of horseradish he uses.
Mojitos
Swap out your usual cocktail with a virgin mojito. Mint leaves, simple syrup, lime juice, and soda water are combined to make a delightful summer mocktail. To amp up the mint flavor, ask for mint syrup to be used instead of fresh mint leaves.
Holiday Mocktail Tips
Use real fruit juices and calorie-free mixers. Make your mocktails with natural fruit juices with no added sugar. Use sparkling water or diet tonic water to increase its volume and carbonation.
Add whole fruit or vegetable pieces. You can increase the fiber and vitamins in your mocktail by adding pieces of whole fruit or vegetables. Use antioxidant-rich sweet fruits like berries, grapes or oranges to make fruity mocktails, or vegetables like okra or celery to whip up savory mocktails. If you want the fruit to double as ice cubes, choose frozen chunks.
Garnish with fresh herbs or spices. Herbs and spices increase mocktails' flavor, color and wholesomeness. You might garnish a drink with a sprig of mint, lime slice or cinnamon stick, for example.
Select a fancy glass. Make your mocktails look extra festive by serving them in a champagne flute, wine glass or martini glass.
Just because it's the holiday season it doesn't mean kids and teenagers can't have a fancy drink of their own. Here are 10 easy holiday mocktails for kids and teenagers. This selection of kid-friendly mocktails will put smiles on their faces and even the "kid in you" will love.
Take out your cocktail shaker or blender or and whip up one or more of these 10 easy, refreshing and delicious mocktails for a real holiday hit for kids and teenagers.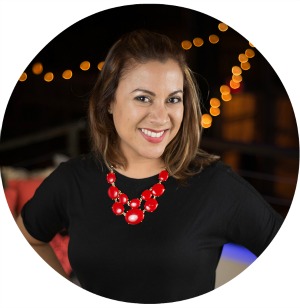 Hi there! I'm Wanda – the creator and author at My Sweet Zepol a healthy food, travel, and lifestyle blog. Passionate about food photography, food styling, entertaining and advocate about creating memories around the kitchen table. With a mission to create easy-to-make meals for the busy family.