Lemonade is about the best drink there is to enjoy any given day, but when it's #NationalWatermelonDay you have to enjoy a Watermelon Lemonade in style. Stay with me and I'll show you how. I partnered with Cheddar's Restaurant to share a fun way to enjoy a drink using a watermelon as a beverage dispenser. Just add a spigot tap dispenser and get the party started! All pictures and opinions are 100% percent my own. 
Cheddar's Scratch Kitchen, always dedicate the time and effort necessary to make something memorable. And this National Watermelon day, we want you to get in on the fun too. That's why when we got a box through mail from Cheddar's Scratch Kitchen with a fun basket filled with a fun size watermelon, some very delicious sweets and a spigot we were very excited. Intrigued right? I'm about to show you how to make your very own watermelon beverage dispenser and a very refreshing watermelon lemonade to get the party started!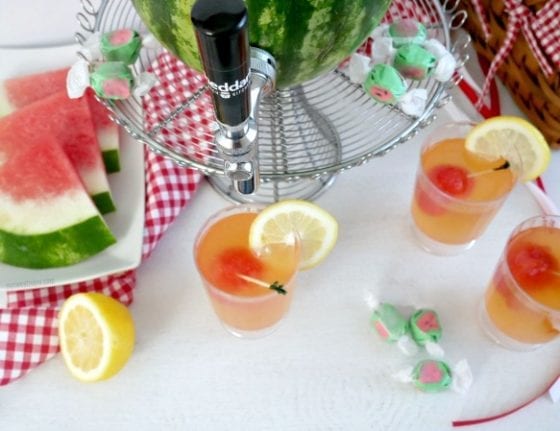 Refreshing Watermelon Lemonade
Enjoy a homemade refreshing watermelon lemonade served from a watermelon beverage dispeser that you'll learn how to make here too. #NationalWatermelonDay
Ingredients
1 Watermelon, provided by Cheddar's Scratch Kitchen
2 cups Lemonade Juice
Lemons
1 cup Watermelon Puree
Instructions
Wash the watermelon.
Slice a very thin sliver - approximately 1/4 inch - off the bottom of the watermelon to stabilize it. Careful! If you cut too much off, the watermelon will leak.
Next, cut the top off the watermelon, approximately 1 inch down from the steam - just large enough to fit your hand inside. Set the tip aside.
Using a spoon or ice cream scoop, scoop out the watermelon and place in a medium-sized bowl to enjoy later.
Press the spigot slightly into the bottom portion of watermelon to create an indent, then cut a hole with a small paring knife. Twist the rings back onto the spigot from inside the watermelon until secure.
Puree the watermelon you have removed.
Pour about one cup of the watermelon puree and 2 cups of lemonade. Mix and add the top.
Share and enjoy!
This watermelon lemonade is fun and refreshing. Perfect for the entire family. But, if you're looking into a more adult friendly drink you can either recreate Cheddar's Tito's Watermelon Vodkarita with vodka, watermelon puree and sweet & sour mix; hand-shake, pour over ice and top with fresh-cut watermelon. Voila! It's that easy. Or to make it even easier just head over to Cheddar's Scratch Kitchen's, grab a date or friends and enjoy a cocktail (or two).
Grab a glass of your homemade refreshing watermelon lemonade and invite some friends over. Maybe everyone can bring something and turn any day into a very fun and memorable one. Because there's nothing wrong with a little fun here and there.
What's your favorite way to enjoy watermelon? If it's in a drink, which one? Maybe we can get a party started here. Share in the comment section below.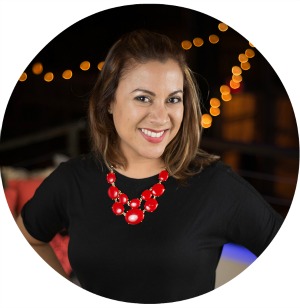 Hi there! I'm Wanda – the creator and author at My Sweet Zepol a healthy food, travel, and lifestyle blog. Passionate about food photography, food styling, entertaining and advocate about creating memories around the kitchen table. With a mission to create easy-to-make meals for the busy family.