Chopped Conference is a one day food blogging conference held in Kansas City. The Mission of Chopped Conference is to bring together different communities of people with a passion for food around the core ideas of love, family, community, and finding ways to share that via blogging to a larger audience.
Kansas City, view from the skies, it's so beautiful!
This is an intimate blogging conference organized by the lovely and talented Marly from Namely Marly. As intimate as less than 100 attendees. All sessions were held in a one large urban room at River Market Event Place. The environment is perfect for getting to know each blogger on a more personal level, which I love. For an introvert as myself this kind of setting is perfect. I have attended a fair amount of conferences, mostly local, but I feel that the topics, specific tips and tools shared have already been amazing for my blog.
Topics like: Building your Brand Presence on Social Media (FB, Pinterest and Instagram), The Power of Video for Food Bloggers, Being authentic in writing, photos and life, Making the Most of Your Revenue Model with Ads and Sponsored Posts, Adding Products to Your Food Blog Revenue Model: Creating Courses and 10 Tips for Avoiding Blogger Burnout and Creating a Healthy Work Life Balance. By this amazing speakers: Amanda Rettke, Denise Woodward & Lenny Ferreira, Megan Gilmore, Matt Armendariz, Kyle Ivins, Camille Beckstrand, Alexa & Payton Schirm and Liz Della Croce.
Can you see the immense treat it is to attend a Chopped Conference? The topics where precisely what I was seeking at this stage of my years of blogging. The speakers where the cherry on top. All very giving, transparent and authentic, made everyone feel empowered and energized to make it happen! Every bloggers goals look different, some want to focus on food photography while others are more interested in working with brands or writing a book. I love a room filled with people with one same passion (food blogging) that help each other get to the next level. If you feel the same way I do, then this is a conference you won't want to miss. Be on the look out for next years details and attend, it's worth the investment!
A conference that keeps on giving…listen to the Chopped Podcast hosted by Marly herself. I guarantee you will not only love them, but learn so much too! I listen to them over and over and feel I learn something new every time. Now it's time to put everything I've learned into practice!
Disclosure: A huge "thank you" to Best Food Facts who sponsored my trip to Chopped Con. I am blessed to work with brands that invest in my growth.
Best Food Facts is a non-profit organization that just cares for us to get educated providing direct contact with real scientists and researchers to answer all those burning questions we have about food.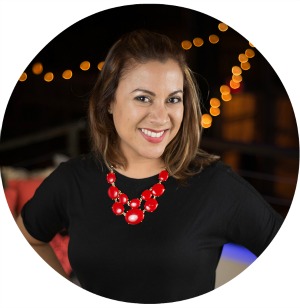 Hi there! I'm Wanda – the creator and author at My Sweet Zepol a healthy food, travel, and lifestyle blog. Passionate about food photography, food styling, entertaining and advocate about creating memories around the kitchen table. With a mission to create easy-to-make meals for the busy family.