This shop has been compensated by Collective Bias, Inc. and its advertiser. All opinions are mine alone. #PureLifeRippleEffect #CollectiveBias
Maybe the fact that we live in Florida, an all year round warm (hot) place has made us more conscious about keeping hydrated, but one thing I do know for sure and that is that we all love to drink water. My girls are very enthusiastic water drinkers. We purchase our water in gallons and bottles for easy access for our on the go lifestyle. That's why when we go to Walmart I always stock up on as much water I can, sometimes it doesn't last a week or two. During our summer vacation we made multiple trips to the pool, the beach and parks. Keeping water bottles at hand was always a priority. We also found that at times we opened a water bottle and put it back into the fridge (or backpack) without finishing it and then couldn't tell which one was our bottle. I bet that has happened to you too.
Here's a trick on how to tell your bottle water apart from the rest. Each member of the family grabs a sharpie of their favorite color and pains the cap of their water bottle. Remember to keep the sharpie handy, you will need it for other water bottles you use. My girls came up with this idea and it has made a difference in our house. Plus, it's fun too!
For more tips on how to keep hydrated here are some from Robin Plotkin (a registered licensed dietitian):
Prep ahead a week's worth of bottled water, like Nestlé® Pure Life® Purified Water, for lunches or on-the-go-events at one time. Store in the freezer and remove when needed to stock lunches, backpacks or gym bags. The water will be ready to drink when your child is ready.
Have cups, straws, lids and other drinking "equipment" available to provide to your kids to make drinking water more fun. Empower them to fill their own cups of water-and praise them when they do.
My girls takes lunch with them for school on a daily basis. They love how customizable the idea of taking their own lunch for school is. A healthy lunch makes a great difference in the rest of the day's performance. They also use the sharpie trick, even though they are not expecting to mix their water bottles with others, so that they can spot their bottle a mile away. Other kids have loved the idea and started using it in school. It's always fun to get to know your friend's favorite color.
In a survey recently conducted by Nestlé® Pure Life® it was found that a majority of kids say they prefer a homemade lunch (57%) over a school bought lunch. This preference for packed lunches offers a key hydration opportunity for moms – packing a bottle of water can help increase a child's water intake for the day.*

It also showed that water reminders are necessary to build healthy hydration habits but only half of moms (52%) surveyed said they regularly remind their child to drink water.*
At PureLifeRippleEffect.com, moms can share tips and tricks that they use to teach their kids about the importance of staying healthy and hydrated. To ignite The Ripple Effect movement and encourage kids to get the water they need throughout their day, Nestlé Pure Life is providing water to kids this school year through After- School All-Stars, an organization that strives to keep children safe and healthy through afterschool programming. Nestlé® Pure Life® has committed to provide nearly one million 8 ounce servings of water to kids this school year through After-School All-Stars. Information source – At over 20 participating schools in select markets across the country. With this movement, moms will be empowered to send their kids off to school each day fueled and hydrated. To help your family Drink Up and be a part of the Ripple Effect, visit pureliferippleeffect.com and share your tips for healthy hydration using #pureliferippleeffect.
I've shared my tricks with you on how we use Nestlé® Pure Life® Water to keep us hydrated while on the go (like our trip to the beach during the summer) and I also shared how I create a delicious back-to-school lunch for my girls! What is your favorite way to use it for your family?
Let's all keep hydrated and have fun along the way!
*Online survey conducted in June 2015 of 1,077 moms of kids ages 6-12 overall, including 254 Hispanic moms of kids ages 6-12. 1,077 kids ages 6-12 from the same household were also surveyed, including 254 Hispanic kids ages 6-12. © 2015 Nestlé® Waters North America Inc.
You can find Nestlé® Pure Life® at Walmart, visit them on Facebook.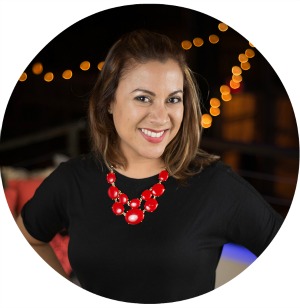 Hi there! I'm Wanda – the creator and author at My Sweet Zepol a healthy food, travel, and lifestyle blog. Passionate about food photography, food styling, entertaining and advocate about creating memories around the kitchen table. With a mission to create easy-to-make meals for the busy family.