My friend sent me a picture of an Oreo Cheesecake/Cupcake (just the picture) about a month ago (or even longer) with the idea of making them together. Time went by, but today we finally made the mini cheesecakes. We is a lot of people, I made them ahead of time since we were meeting on a school night and she drives an hour to get to my house. That is insane and true love, no doubt about that. But, she did come all the way to my house just to spend time with me and have a girls only night in.
I also surprised her with home made pizza. One meat lovers (Bacon, Sausage and Pepperoni) and the other one was a four cheese pizza (recipes coming soon).
This cookies and cream mini cheesecakes were quick and simple to make. The crust is an Oreo cookie, doesn't get any easier than that and bakes in 22 minutes. Here, I'll tell you how I made them.
Cookies and Cream Mini Cheesecakes (recipe by Wanda Lopez, My Sweet Zepol)Ingredients
2 packages (8oz. each) Cream Cheese (softened)
2/3 cup Sugar
2 Eggs
1 teaspoon Almond Extract (vanilla extract will work well too)
12 Oreo Cookies
Oreo Cookies (for decoration, optional)
Directions
Preheat oven to 325 degrees.
Using a cupcake pan place an Oreo cookie on each paper lined cupcake cup.
Beat cream cheese and sugar in a large bowl with electric mixer on medium speed until light and fluffy.
Add eggs one at a time. Scrape to make sure there's no cream cheese on the bottom of the bowl.
Add almond extract.
Spoon batter into each cup, evenly.
Bake for 22 to 24 minutes or until edges are lightly browned (for my oven, 22 minutes is just fine).
Cool pan on wire rack.
Note: Mini cheesecakes will deflate in the center upon cooling.
Refrigerate for 2 to 4 hours (or overnight).
Top with desired toppings. I topped the cookies and cream mini cheesecakes with a swirl of home made whipped cream and an Oreo cookie. Or take the wrapper off, turn them over and enjoy.
Hope you give this cookies and cream mini cheesecakes a try and share with a good friend of yours like my friend is to me.
Enjoy!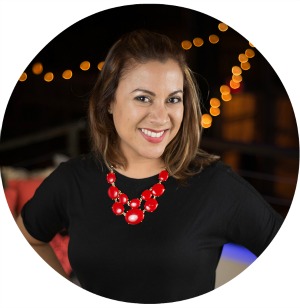 Hi there! I'm Wanda – the creator and author at My Sweet Zepol a healthy food, travel, and lifestyle blog. Passionate about food photography, food styling, entertaining and advocate about creating memories around the kitchen table. With a mission to create easy-to-make meals for the busy family.