Pizza!
Pizza is our go to food when we are all in need of food fast, or had a rough day, or couldn't get to cooking something on time and everyone is just simply hungry (starving). We either order to go or eat it at a pizza shop. Then it came to me the thought of making a home made pizza dough instead of buying it.
After searching around and reading how some recipes vary from others there was nothing else to do than try as many as I could until I got one just perfect for us. So I did. I want to share it with you and hopefully you'll give it a try too.
Pizza Dough
(recipe by Wanda Lopez, My Sweet Zepol)
Ingredients
1 package (1/4oz.) of Instant Dry Yeast
1 1/3 cup Warm Water (not tap water & not boiling water)
1 1/2 teaspoon Salt
1 teaspoon Sugar
1/2 teaspoon Oregano (dry and crushed)
2 tablespoons Olive Oil
3 3/4 cups Flour
Directions
Add the instant dry yeast to the warm water. Let is stand for 5 minutes.
Add the salt, sugar, oregano and olive oil to the yeast water mixture.
Using an electric mixer add the flour and the yeast mixture together. Knead for about 10 minutes.
Form the dough into a ball and place in a large oiled bowl. Drizzel a few more drops of oil and coat the top of the dough.
Cover with a plastic wrap. Let it sit in a warm place until it doubles in size, about 1 1/2 to 2 hours (or several hours), the longer it sits the more the flavorful. You can refrigerate if using on another day.
When ready to use, remove from the refrigerator and let the dough come to room temperature before using.
Preheat the oven to 450 degrees.
Divide the dough in two balls (makes two pizzas). Spread in the shape of your preference.
Top with desired ingredients and bake for 12-16 minutes.
This a perfect dish to make with your kids or grand kids. They love being little helpers in the kitchen. I know my girls loves to help when preparing food and pizza is our favorite meal to make together. Make some memories with your kids.
(picture taken by my daughter with an iPhone)
Enjoy!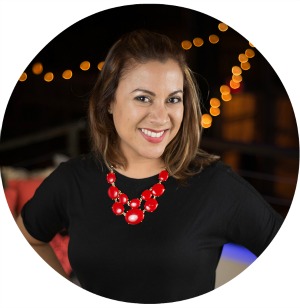 Hi there! I'm Wanda – the creator and author at My Sweet Zepol a healthy food, travel, and lifestyle blog. Passionate about food photography, food styling, entertaining and advocate about creating memories around the kitchen table. With a mission to create easy-to-make meals for the busy family.