Orzo is one of my go to pastas. I love the way they resemble rice. One of the ways I can get my girls to eat vegetables is by making broccoli and sweet peppers orzo. They'll devour the whole thing without complaints. That makes me a happy mamma.
One of the things I enjoy about this dish is that the ingredients are items I normally have on hand, it's an easy to make recipe and it's also perfect for those nights when I am super busy and need something on the table fast. Plus, is grocery shopping day.
Broccoli and sweet peppers orzo goes well with chicken, salmon, shrimp or on its own too. As a main dish or a side dish.
Broccoli and Sweet Peppers Orzo
Ingredients
(recipe by Wanda Lopez, My Sweet Zepol)
2/3 cup Orzo
2 tablespoons Olive Oil
2 cloves of Garlic (minced)
1 Shallot (or onion of your choice)
1 each Sweet Pepper (Red, Orange and Yellow)
1 (small) Green Pepper
6 baby Carrots
1 cup Broccoli
1/2 teaspoon Salt
1/2 teaspoon freshly Ground Pepper
Directions
Cook orzo in boiling water for 7 to 9 minutes.
Meanwhile on a skillet heat olive oil.
Add garlic, onion and cook until the onion is translucent.
Cut the peppers is strips (dice as well if desired), cut the carrots into rounds and add to the skillet. Cook until they soften a bit.
Add broccoli. Add a tablespoon of the orzo water to help the broccoli cook, cover for 2 more minutes.
Drain orzo and add into the skillet. Toss everything together. Season with salt and pepper.
Serve in a large serving bowl.
Hope you enjoy this light dish. Use vegetables of your preference and make this recipe your own. Next time I'll add peas. They are a bit sweet and will add an extra flavor to each bite. What vegetable would you add?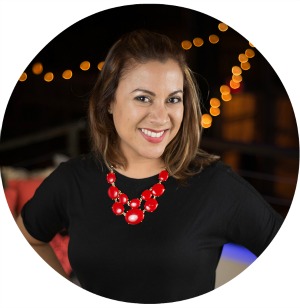 Hi there! I'm Wanda – the creator and author at My Sweet Zepol a healthy food, travel, and lifestyle blog. Passionate about food photography, food styling, entertaining and advocate about creating memories around the kitchen table. With a mission to create easy-to-make meals for the busy family.