I had bought an almond paste and didn't know quite yet what to bake with it. At first I thought about scones or ice cream, but on a rainy afternoon I decided that a warm cake was just the perfect sweet.
Here is an almond and apricot cake recipe that I adapted from one recipe I had saved for years (maybe three years ago). I enjoyed this cake with a nice hot cup of coffee, but my girls enjoyed it with good vanilla bean ice cream. They were both really good. I liked the a la mode version better.
Almond and Apricot Cake
Ingredients
1 3/4 cups Flour
3/4 teaspoon Baking Powder
1/4 teaspoon Salt
3/4 cup Butter (softened)
1 cup Sugar
2 Eggs (whole eggs)
1 Egg Yolk
1/3 cup Apricot Preserves
1/3 Sour Cream
1 teaspoon Vanilla Extract
1 (7oz) tube Almond Paste (crumbled)
1/2 cup Almonds (sliced)
Directions
Preheat oven to 350 degrees.
Lightly butter a 8″ square pan. Set aside.
Combine flour, baking powder and salt in a bowl and set aside.
In a mixer, cream butter and sugar together until light and fluffy. About 3 minutes.
Add eggs and egg yolk one at a time. Beat well after each addition.
Add the preserve, sour cream and vanilla extract. Beat for one minute or until well incorporated.
At this point add in the almond paste.
Lightly fold the dry ingredients into the batter.
Spread evenly in prepared pan and sprinkle with the almonds.
Bake for 35 to 40 minutes or until a tooth pick comes out clean.
Cool on wire rack.
Cut into squares.
Sprinkle with toasted almond slices and drizzle over some powder sugar for garnish.
Tip: Serve with a good vanilla ice cream or with a hot cup of coffee.
Baking during the summer time could be a no go for some folks, but when paired with good ice cream (of your choice), then the idea of having something freshly baked doesn't sound so bad after all, right?
Enjoy and don't forget to share.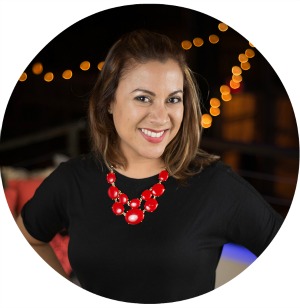 Hi there! I'm Wanda – the creator and author at My Sweet Zepol a healthy food, travel, and lifestyle blog. Passionate about food photography, food styling, entertaining and advocate about creating memories around the kitchen table. With a mission to create easy-to-make meals for the busy family.