Have some left over chicken? I have a great idea of what you can make for dinner with your left overs. BBQ chicken and mozzarella pizza.
After enjoying a nice rotisserie chicken one night we ended with some left overs and they turned out perfect for a pizza night the next day. You can make your own pizza crust or not, it's all up to you. I made mine and have shared the recipe with you just in case you want to go all out.
BBQ Chicken and Mozzarella Pizza
(Recipe by Wanda Lopez, My Sweet Zepol)
Ingredients
Pizza dough – makes two pizzas (click link for homemade recipe)
Rotisserie Chicken (1-breast, both thigh)
2/3 cup BBQ Sauce
1/2 cup Marinara Sauce
1 cup fresh Mozzarella Cheese
Directions
Preheat oven to 450 degrees.
Shred rotisserie chicken pieces, add in the BBQ sauce and mix well. Set aside.
Split pizza dough in half. Stretch dough into two 9 inch rounds.
Top each with marinara sauce.
Spread half the chicken mixture on each pizza.
Sprinkle with mozzarella cheese, diced or shredded (you choose).
Bake for 12 to 16 minutes or until golden brown.
Let cool for 2 to 5 minutes, cut into desired slices, share and enjoy!
After we had this pizza we just couldn't believe how amazing it tasted and how easy it was to put together. If you are wondering what to make for dinner on a Friday night or any busy weekday night, this may just be your answer…a BBQ Chicken and Mozzarella Pizza with left over chicken, home made or store bought pizza dough. Freshly baked at home in less than 30 minutes and dinner is served.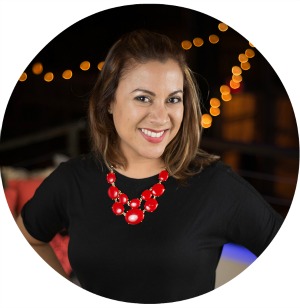 Hi there! I'm Wanda – the creator and author at My Sweet Zepol a healthy food, travel, and lifestyle blog. Passionate about food photography, food styling, entertaining and advocate about creating memories around the kitchen table. With a mission to create easy-to-make meals for the busy family.