While in my teen years we moved to Puerto Rico, (from Boston). My parents wanted to take us back to the family roots and grow up closer to the family. About a year after living there I got a job at my cousins bakery. It was a nice after school job. The variety of desserts was outstanding. Flancocho is one of those desserts you can easily find in any bakery in Puerto Rico.
Flancocho is a combination of flan (custard) and cake (traditionally vanilla cake). It was my husbands favorite sweet and he asked for it every time he went by the bakery. Actually, that is where we meat! So you see why I'm sharing this recipe with you? It's a recipe that touches my heart.
Cream Cheese Flancocho
(My Sweet Zepol, original recipe)
Ingredients
4 Eggs (room temperature)
8 oz Cream Cheese (room temperature)
1 teaspoon Vanilla
1 can (12 oz) Evaporated Milk
1 can (14 oz) Condensed Milk
1 box Vanilla Cake Mix (follow cake instructions)
for the caramel
1 cup Sugar
3 tablespoon  Water
Directions
Preheat the oven at 350 degrees.
Mix eggs, cream cheese, vanilla, evaporated milk and condensed milk until creamy.Set aside.
Prepare the cake mix following the box instructions. Set aside.
To prepare the caramel. Heat the sugar and water in medium heat. Stirring at all time until it has a nice amber color. Then transfer the caramel to a 10 inch round pan.
Add the flan mixture over the caramel. Then add the cake mixture over the flan mixture. The cake mixture will float over the flan mixture, it's like magic.
Bake on a water bath.
Bake for 50 minutes (it may vary from oven to oven), to make sure the Flancocho is completely done insert a toothpick in the middle and if done it will come out clean.
Once baked let stand until it reaches room temperature. Loosen the sides and invert over a big plate.
Refrigerate for at least 2 hours before serving.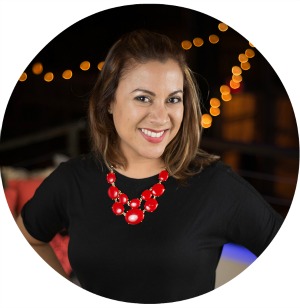 Hi there! I'm Wanda – the creator and author at My Sweet Zepol a healthy food, travel, and lifestyle blog. Passionate about food photography, food styling, entertaining and advocate about creating memories around the kitchen table. With a mission to create easy-to-make meals for the busy family.