If you have been following My Sweet Zepol long enough you know by now that I fell in love (head over heels) with Good Karmal. They make the most amazing caramels I have ever tasted! After that I have been dreaming on replicating them, well, at least try to replicate them!
Finally, I found one recipe that is pretty amazing. The recipe was originally created to have the sea salt over the caramels, but since I love the crunch of the sea salt so much I decided to add it to the hot caramel mixture too. It's outstanding and you won't be able to resist them.
Sea Salt Caramels
Ingredients
1 cup sugar
1 can evaporated milk
3/4 cup corn syrup
1/2 cup butter (1 stick)
1 teaspoon vanilla bean paste
1 tablespoon Sea Salt (divided)
Directions
Spray a 8×8 inch pan and set aside. If you are unsure about the caramels coming out of the pan you can layer wax paper on the pan at this stage, (I didn't, but can if you wish to).
Add sugar, about 1/4 of the can of the evaporated milk, corn syrup and butter to a pot and heat over medium-high heat. Stir constantly and bring to a boil.
Once it's boiling go ahead and slowly add the rest of the evaporated milk, while still stirring the mixture.
Continue stirring until a candy thermometer reads 235 to 240. At this stage add the vanilla paste and 1/2 tablespoon of the sea salt.
Transfer the caramel mixture to the 8×8 already greased pan. Cool on a rack. Once cooled add the remaining 1/2 tablespoon sea salt.
Note: If you didn't use a wax paper on your pan don't worry. Just run you butter knife on the sides of the caramel and loosen them up a bit. They will come out nicely. Be ready with wax paper to drop the caramel on.
Refrigerate for about 30 minutes before cutting, it will be much easier to cut and manage.
How to cut: Go ahead and cut the caramels into 1″ (on one side) and 1/2″ (on the other side). They will be the perfect size to wrap in some candy wrapper. You'll end up with about 128 sea salt caramels to indulge on!
Tip: You can also use the parchment paper included in the package when you purchase your candy wrapper. I suggest you use them as two options other than using them together.
These Sea Salt Caramels are the perfect gift to give to family and friends on any give occasion. If you are like me that love to make home made gifts for dinner guests or the holidays, well these are a perfect idea. Plus a wonderful treat to have in hand for those sweet and salty cravings!
Here is a great wrapper option for the Holidays.
And here is another idea, for a Valentine's Day gift idea (or Mother's day/Father's day).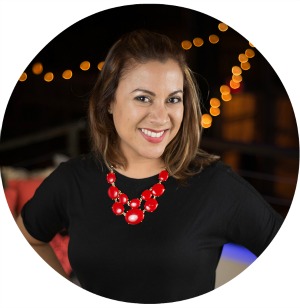 Hi there! I'm Wanda – the creator and author at My Sweet Zepol a healthy food, travel, and lifestyle blog. Passionate about food photography, food styling, entertaining and advocate about creating memories around the kitchen table. With a mission to create easy-to-make meals for the busy family.