Have you ever eaten something that has you wanting for more and when you return for more it's no longer on the menu? Sadly that's what happened to my hubby. He ate something that had him talking about it for days and wanted me to try it, but when we finally went to the restaurant it was no longer available. I felt so bad for him. He couldn't stop talking about the dish; what it looked like and what it tasted like.
One afternoon I wanted to surprise him and recreate a dish that I had never seen before, or tasted before. Let me confess that it wasn't easy, but I am so happy to say that the final results were superb and the house smelled like bacon for days.
But, don't just take my word for it. Here is the recipe of my Fried Black Eye Peas with Bacon!
Fried Black Eye Peas with Bacon
Ingredients:
1 (15.5 oz can) Black Eye Peas
4 slices of bacon
1/2 small onion (finely chopped)
1/4 teaspoon sea salt
1/2 teaspoon smoked paprika
Directions:
Rinse the black eye peas and set aside.
Place the bacon in a pan and cook (on medium heat) until crisp. Remove and pat dry on paper towel.
Using that same bacon grease toss in the onion and the black eye peas. Fry for about 10 minutes moving constantly, (you want it to fry evenly).
Then add the sea salt, smoked paprika and crumble the bacon. Toss one last time.
Remove from the pan and place evenly on some paper towel. Taste for the right seasoning. Let it cool just a bit and enjoy.
I had spoon fulls of this Fried Black Eye Peas and couldn't stop eating. My husband was as happy as like a little boy. I'll have to say that this recipe was a hit and a keeper. Priceless!!!
Note: If you happen to have some left over just heat on broil (400 degrees)  for a couple of minutes to give it time to toast again.
Hope you try it and like it as much as we do! Enjoy!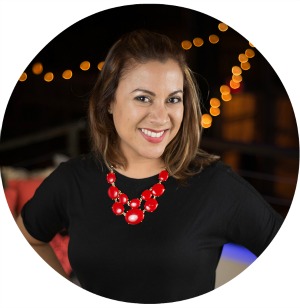 Hi there! I'm Wanda – the creator and author at My Sweet Zepol a healthy food, travel, and lifestyle blog. Passionate about food photography, food styling, entertaining and advocate about creating memories around the kitchen table. With a mission to create easy-to-make meals for the busy family.