Pecan pie is one of my favorite pie to make for many reasons. I make it every year during the holidays. Is a family "most requested" dessert, specially if it has chocolate chips in it. I actually haven't made it without chocolate, until now. Every year for my brother in law's birthday I make him a Chocolate Pecan Pie. It's always sweet to see how happy he gets when I arrive with pie in hand. This year I have changed up the recipe to make it even more indulgent.
Here is a new extreme take on my ever so traditional chocolate pecan pie and if you have only had the pecan pie without the chocolate go and try it too. You will be changed forever and may not even want it any other way afterwards. Until you try my Cream Cheese Pecan Pie!
Cream Cheese Pecan Pie
You can't go wrong with a cream cheese and pecan pie. Perfect after any meal or just a slice with a cup of coffee and great company.
Ingredients
1 (8oz) Cream Cheese, softened
3/4 cup Sugar
3 Eggs
3/4 cup Light Corn Syrup
1 teaspoon Vanilla Extract
1/2 teaspoon Salt
1 1/2 cups Pecans
1 (9in) Pie Crust
Instructions
Heat oven to 350 degrees.
In a mixer beat cream cheese and sugar until fluffy.
On a separate bowl combine the eggs, corn syrup and salt.
Pour into the mixer and beat until well combined.
Spread the pecans (chopped if desired) over the pie crust.
Top with the cream cheese mixture.
Cover the edges with aluminum foil strips.
Bake for 55-60 minutes or until a tooth pick inserted near the center comes our clean.
Cool on a wire rack.
Serve and enjoy!
It may have been because it's #NationalPieDay or as you may have seen it on social media #NationalPiDay. But I couldn't resist making a pie today. My girls always get excited for pie day. It's super fun following the hashtag on social media and see what others are making. This is a great way to follow other food lovers and grab some ideas for those potluck parties. They happen year round. Think Easter family gatherings, Mother's Day or Father's Day at your parents or in-laws and don't even forget the holidays. Potlucks during the holidays is a must. So be smart, grab some ideas and save the recipes for later.
Now tell me what is your favorite pie?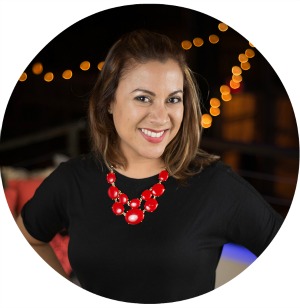 Hi there! I'm Wanda – the creator and author at My Sweet Zepol a healthy food, travel, and lifestyle blog. Passionate about food photography, food styling, entertaining and advocate about creating memories around the kitchen table. With a mission to create easy-to-make meals for the busy family.