I have started and deleted this post many times, its just too hard for me to even finish it without breaking out crying like there's no tomorrow.
After learning this past Friday that an amazing blogger had lost her beloved husband unexpectedly I couldn't just stop sobbing and thinking about my husband. He has been with me though good times and bad times. Many blessing good times and some horrifying bad seasons it's what my husband and I have been through during our almost 12 years of marriage. But I can't just finish this paragraph without giving thanks to God for him and his unselfish love for me.
Jennifer Perillo posted in her blog In Jennie's Kitchen the most beautiful request I've ever heard of. She asked her fellow bloggers to bake a special pie for her special husband. A Peanut Butter Pie, Mikey's favorite! Her request was that everyone baked his favorite pie in his memory and share it with a loved one. Her request was also that the pies where baked on Friday, August 12, 2011; the very same day I read her post.
 My loved ones!
Being touched by her story and being in love with my husband and my daughters (which are my special and loved ones), I ran to the store and bought the ingredients needed for the PB Pie in Jennifer's blog. The recipe is as follows:
Creamy Peanut Butter Pie
(Jennifer Perillo's recipe)
Serves 10 to 12
Ingredients:
8 ounces chocolate cookies
4 tablespoons butter, melted
4 ounces finely chopped chocolate or semi-sweet chocolate chips
1/4 cup chopped peanuts (I opted this ingredient out, since my oldest daughter is not fond of crunchy nuts)
1 cup heavy cream
8 ounces cream cheese
1 cup creamy-style peanut butter
1 cup confectioner's sugar
1  (14 ounce) can sweetened condensed milk
1 teaspoon vanilla extract
1 teaspoon freshly squeezed lemon juice
Directions:
Add the cookies to the bowl of a food processor and pulse into fine crumbs.  Combine melted butter and cookie crumbs in a small bowl, and stir to mix well.  Press mixture into the bottom and 1-inch up the sides of a 9-inch springform pan or pie pan (which is what I used).
Melt the chocolate in a double boiler or in the microwave.  Pour over bottom of cookie crust and spread to the edges using an off-set spatula.  Sprinkle chopped peanuts over the melted chocolate (this is the step I left out). Place pan in the refrigerator while you prepare the filling.
Pour the heavy cream into a bowl and beat using a stand mixer or hand mixer until stiff peaks form.  Transfer to a small bowl and store in refrigerator until ready to use.
Place the cream cheese and peanut butter in a deep bowl.  Beat on medium speed until light and fluffy.  Reduce speed to low and gradually beat in the confectioner's sugar.  Add the sweetened condensed milk, vanilla extract and lemon juice. Increase speed to medium and beat until all the ingredients are combined and filling is smooth.
Stir in 1/3 of the whipped cream into the filling mixture (helps lighten the batter, making it easier to fold in the remaining whipped cream).  Fold in the remaining whipped cream.  Pour the filling into the prepared springform pan (or pie pan).  Drizzle the melted chocolate on top, if using, and refrigerate for three hours or overnight before serving.
 A caramel sauce writing on it: 
This one is for my husband Alex!
 Chocolate cookie crumbs on top:
This one is for my girls!
Now, this pie is for Jennifer 
for being a brave woman 
and for many 
blessings from God to her & her girls!
I don't personally know Jennifer, but after she opened her heart to us I just can't stop feeling like I know her and so humbling connected to her. I wish her the very best in life and many years of happiness with her girls and family. I believe that God is going to guide her through her pain into a life healed and in peace. I also believe Jennifer will be a woman that will comfort many other women in pain after the lost of a loved one.
Note: I started dusting some cocoa powder with a stencil, then scrape it off and did another design with a caramel sauce and the last design was topping with some chocolate cookie crumbs. See pictures above.
You design it as you wish but I do recommend you to bake #acakeformikey and let her know in her blog or through this blog.
The point in all this baking PB Pies is not only for Mikey's memory, but for your own memories shared with your loved ones. Please take advantage of life and share memories worth for with those you love the most and most importantly make new relationships with those around you. Bake for everyone you can think of and lets spread this line of thought and be grateful to be alive!
 Enjoy a piece of pie! 
Sweet baking!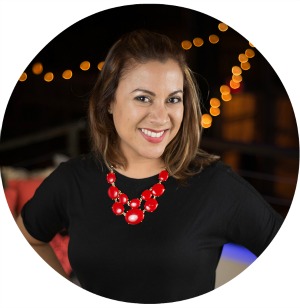 Hi there! I'm Wanda – the creator and author at My Sweet Zepol a healthy food, travel, and lifestyle blog. Passionate about food photography, food styling, entertaining and advocate about creating memories around the kitchen table. With a mission to create easy-to-make meals for the busy family.