We are off to see the Wizard, the wonderful Wizard of Blog! During this day of Food Blog Forum, Orlando 2012.
You got it! The day is finally here and many food bloggers got together last weekend to spend the entire day amongst other food aficionados like them (us). In my previous post I gave you a sneak pick of the kind of welcome reception we all had. Now it's time to show you the day off the seminar through my eyes and some pointers that the experts gave us throughout the day, hope you enjoy the ride!
On Saturday morning we all met in Epcot for an Irish inspired breakfast followed by many professionals from various backgrounds that were there to talk to us about food blogging and how to be better at it. That is what we all wanted to feast on!
The speakers included this year where "pinch me, I'm dreaming" kind of speakers.
This year I found myself enjoying food blog forum in a different way than last year. Maybe because I was more relaxed since I knew many of the bloggers attending. Last year I was a wreck, very nervous.
I learned a great deal this time around.
For example: Diane & Todd (White on Rice Couple) talked to us about Photography & Styling and I learned that everyone has a voice. That voice is exactly what should be "heard" throughout your blog when others read it. Or as they referred to it; "your food story". Everyone has a unique story and you should believe in it with all your heart. Loved this couple, they are so real and down to earth!
Then Jaden spoke about PRspectives with Thomas Smith from Disney Parks, Rachel Barbarotta from Kitchen Aid USA and Arianna Bastianini from OXO. I learned from them that when you as a blogger find yourself looking at a brand to work with; be true to yourself and only work with them if it goes with what you write about. This will also show them and others that may be interested in working with you that you are a serious blogger and knows how to respect their and your time!
We had David Leite of Leite's Culinaria teach us about Writing bigger, better, more bad-ass food posts! Food Blogging is about telling a story. A story has a beginning, middle and end to it. Look over your post once finished and review it before publishing it. Make sure your story is well thought out and well written. Like David said: "Write with honesty, authenticity and specificity".
Finally, Dawn Viola talked to us about, Taking your blog to the next level: From hobby to professional! Can I just say that I love Dawn? Well, I do! She's funny and sweeter in person! Ok, now back to the post. After listening to her talk about finding your voice and developing it, I had an aha! moment. I had not listened to my voice and had no idea that I had one until that day. Now, my goal is to find my voice and practice it a lot. How? By posting at least once a week (which is another of Dawn's tip) and becoming an expert at something (another tip from Dawn). Find out what interests you and be an expert about it!
Think about this for a moment, why did you decide to write a blog? Put those thoughts on paper and you'll have an aha! moment too. Keep true to what you know and what you are passionate about and write about it! Write as often as you can and everywhere you can like; in your blog, your home town (local) paper, food magazines or be a guest in others blogs.
This is part of what I took away from Food Blog Forum this year and some of the things that I'm putting down on paper to work on. My goal is to go from hobby to professional (business)! What's your goal? Go to the comment area at the end of this post and let me know what is your goal or your next steps. Maybe you can be an inspiration to others reading along.
Now, I want to show you a couple of pictures I took throughout the weekend!
In the upper left side you can see: Angie Barret from Big Bears Wife, Alison Lews from Ingredients Inc, Robin Wilson from Simply Southern Baking, Angie Dudley from Bakerella and me in the far right side tucked in the corner. In the box next door you can find: Angie Dudley (again), me (again) and Jenny form Picky Palate. Note: be on the look out because by September 2012, Jenny's book The Picky Palate Cookbook, is coming out!
On the last two boxes we have on the left box: My two little girls together with Jaden from Steamy Kitchen and Diane from White on Rice Couple. For the last box the one found on the right side you have a panel of two couples that are extremely successful in the food blogging world. The Steamy Kitchen team (Jaden and husband Scott) and the White on Rice Couple (Diane & Todd). Very inspiring couple of people!
For lunch we were all guided to another location for a private gathering. The chefs from Walt Disney World really out did themselves with the different plates they prepared at the moment for us. Can you say SPOILED. Here, take a look at some of the pictures I organized for you.
To finish the night we all gathered back in Epcot for a private dessert after party and a close view of IllumiNations: Reflections of Earth. I referred to it as a work of art!
This concludes with this post about the day of Food Blog Forum through my eyes. Hope you all learned something here and are inspired to go and start a blog or be better in your blog if you already started one. Let me know either way. This event is a must go event. The tools provided here by the experts that participate are life changing. They all talk about what they have already done and has worked for them. My tip for you is that if you can attend next year to Food Blog Forum in Orlando go and do so; you'll thank me later, trust me! Enjoy!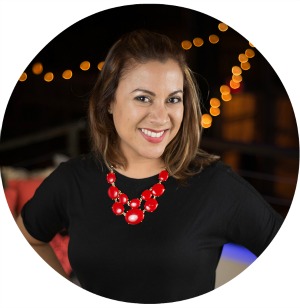 Hi there! I'm Wanda – the creator and author at My Sweet Zepol a healthy food, travel, and lifestyle blog. Passionate about food photography, food styling, entertaining and advocate about creating memories around the kitchen table. With a mission to create easy-to-make meals for the busy family.