On Sunday morning most of the bloggers got together in Whole Foods Market in Orlando for an out of this world brunch. We were all there with our families too. My girls had the time of there lives. Not only did they enjoyed a scrumptious menu, but they got to meet other food bloggers like there mom, too. This experienced helped them see that their mom is not the only one taking pictures of food and writing about it. They probably thought I was a crazy woman taking pictures of food instead of eating it, lol!
The Whole Foods Market team from Orlando arranged stations trough out the courtyard for us to enjoy the brunch while still being able to mingle easily.  The stations were: a carving station, a fruit station, a sweet treats station, a savory bites station, mix your own granola station and the beverages station (which I believe was the most visited station of them all, they had the coffee and I'm a big coffee girl). After all these stations, do I need to say more? Take a look for yourself!
In this picture we have from left to right; my oldest daughter Paloma, Jaden from Steamy Kitchen, Kyra my baby girl and Diane from White on Rice Couple. My oldest daughter has been dreaming about writing a blog for a while now and as soon as she saw all of us talking about food and taking as many pictures as we could of the dishes before eating; she came to the conclusion that writing about food is fun. Needless to say that most of the time you get to eat what you photograph!
What she didn't see was all the big companies that came together to surprise us with top brand name prizes to giveaway and items for our swap bags. Company's like Kitchen Aid USA, OXO and Land o Lakes. From a variety of items available for the giveaways there was this particular box worth about $500 that everyone in that room wanted to take home with them. But there were only 9 of them and compared to about 200 of us, well you do the math. Guess what? I walked out with one of them. Yuppy!!!! I won a prize, a big one too!
Excuse the bad picture, it was taken in the hotel room late at night and the lighting was not in our favor. But, really wanted to give you a visual idea of what the prize included and looked like.
In the picture there is an apron (which I just love), a Calphalon Enamel Cast Iron Panini Pan with Press in a Caribbean Blue color. In love!, a couple of kitchen towels, free Land o Lakes deli cheese coupons, a recipe book specialized on (you guessed it) "paninis", a very handy panini spatula and a Visa with cash sponsored by
Land o Lakes
. We have made numerous paninis already thanks to Land o Lakes for the prize, it has been a real blessing for me and my family!
The swap bags were pretty cool too. They where loaded by all sorts of essential utensils that we all can't live without. Check it out:
Do you like what you've seen so far? I bet you do. But, wait til you see this!
Yes, they are! Caramels! Yes, caramels from
Good Karmal
and they are very addictive. Every table had a plastic container from
OXO
filled with this incredible caramels. Brought to the event by Arianna Bastianini, from OXO. Thanks Arianna! Everyone that had one to taste couldn't stop eating them. If you thought you had tasted the best candy in the world, well, let me burst your bubble because this caramels are the best thing out there. They have a variety of flavors from
vanilla
,
caramel apple
,
chipotle
,
cafe caramel
and my two most favorite flavors
sea salt
and
chocolate sea salt
. Do the math, ok, I'll do it for you; they have six flavors in total and all of them are outrageously tasteful and did I say addictive. Well, they are!
Good Karmal doesn't only sweeten the world, but have the caramels wrapped with inspirational messages that can uplift your spirit and make you a bit more sweeter inside too! I'm in total addiction with them! Shhh!, don't tell anyone, but I grabbed a handful of them and put it in my purse to munch while posting from home. Just a few of them, really!!!! 😉 Just for inspiration, it's pure research. Hey it's my job to taste food!
After a busy and exciting weekend surrounded by many food bloggers it felt sad realizing that everyone was going there own ways and back to their home town. What a sad feeling  🙁
In this last picture you can see a few of the cards of some new and others older friends that got together this last weekend to talk food, meet, learn more about food blogging and go back home inspired to be better at what we do best. Talk food!
Hope you all enjoyed my last post about Food Blog Forum in Orlando 2012. It took a trilogy of posts, but there was no way that so many extraordinary events were written in just one post. This is my farewell for now and hope you are left a bit more inspired to be better at what ever you do!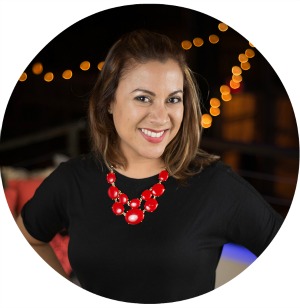 Hi there! I'm Wanda – the creator and author at My Sweet Zepol a healthy food, travel, and lifestyle blog. Passionate about food photography, food styling, entertaining and advocate about creating memories around the kitchen table. With a mission to create easy-to-make meals for the busy family.