Easy as pie #PiDay is always a great day!
It's #PiDay and we are celebrating with five recipes that you will love and should try this year. Are you a pie lover too? Come and join me for a slice of pie or pies! (Click on the links for recipes).
First off is the my family's favorite, Chocolate Pecan Pie. I make this pie during the holidays and my brother-in-law's birthday. His birthday is on January and he is always waiting for his chocolate pecan pie. I wouldn't arrive at his house without it. This pie is chocolaty, smooth, and it melt in your mouth. Perfect with a scoop of vanilla ice cream. Oh Yeah, so good!
Second is a my take on the chocolate pecan pie and a cheesecake… Cream Cheese Pecan Pie. I absolutely love this pie. It's creamy, smooth, crunchy, in other words is divine! If you love cheesecake, chocolate and pecan pie then this pie is for you! Make it, try it and let me know your thoughts.
The third pie on my list is one of my husband's favorite, Coconut Cream Pie. This Almost no bake Coconut Cream Pie is perfection in one bite. I bake the crust and the rest of the pie has no baking needed. I would recommend making this pie to enjoy with your family on Easter Sunday, it's a great treat.
My fourth pie is one I make years ago and haven't made again. It was a post in memory of a blogger's husband that past away very un-expectantly and his favorite pie was Peanut Butter Pie. She asked for everyone to make a peanut butter pie to share with your loved ones as a reminder of the love we have for one another. It was a very emotional moment. I felt her pain, not because I had lost a husband before, but because I had lost a loved one before…my brother. And because, I was at the moment in a battle with cancer.
I know lost, I know love and I know grabbing to all I have in order to have more days with my loved ones. My daughter loves this Creamy Peanut Butter Pie. She is a huge PB lover and can eat it all in a heart beat. If you have a PB pie recipe on the lighter version, send it my way. I will love to make it for my daughter!
Last, but not least, I want to share with you a savory pie. This is the pie I make often. In fact, I'll be baking one today. It's my favorite savory pie too, Chicken Pot Pie! I love chicken pot pie. It's super easy to make, everyone in my house loves it and paired with a delicious green salad is perfection. My meal is ready in no time. Once the chicken is cooked the rest is all about putting all the ingredients together, tossing on the oven and let it do it's thing. Once it's out of the oven, it is golden brown and bubbly, yum! My mouth is watery already. Have you tried chicken pot pie before? Do you love it?
Now, share with me your favorite pie. Sweet or savory?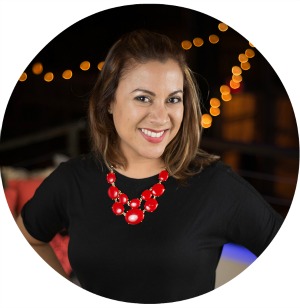 Hi there! I'm Wanda – the creator and author at My Sweet Zepol a healthy food, travel, and lifestyle blog. Passionate about food photography, food styling, entertaining and advocate about creating memories around the kitchen table. With a mission to create easy-to-make meals for the busy family.