Are you a pet lover that enjoys making dog toy DIY projects like we do? Then this is the right place to be at. This felt braided rope dog toy DIY is super kid friendly too. My girls loves making sweet toys for our Yorkie girl.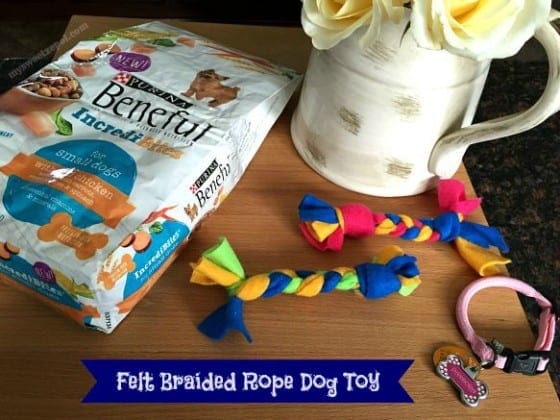 I work from home & my Yorkie has been my most faithful companion. I enjoy her company while taking my morning cafecito, it's a time we cherish before the girls get up and start what is a very active day for our furry girl. She loves it too. During the afternoon she goes to the backyard with me and keeps me company while I water the plants. She goes wild with the water hose. I personally love walking to the mailbox with her, this keeps her active, not that she needs more of it. Everyone in our house wants to spend time with her. Even our friends, (aka: pet-sitters), come over often to play with her.
That is why I feed her Beneful Incredibites Chicken, because it is 100% complete and balanced. Beneful believes in variety, heath and flavor for dogs. Our princesa deserves the best and so does your furry baby. If you haven't tried Beneful Incredibites Chicken, (they are tender and crunchy mini bites for small dogs), go and get a bag, give it a try and watch your doggy enjoy it bite after bite. We get ours at our local Target. That's where I go to get her other personal items too. Our "yorkie" is very girly and a stylish girl. We all spoil her. I am constantly buying her clothe & accessories, she's mi princesa.
Have you been to the pet isle? You can find so many options for your furry baby. While walking around I grabbed some craft items to make her a new toy. Bright color are a most, it gives her a taste our Latina side. One of my daughter's favorite color is green, the other loves blue and we all love pink. Another color I love is that yellow/orange combination that looks like a mango. It reminds me of my island Puerto Rico, very tropical.
Our princesa, Pandora, loves to have her toy thrown over & over for her to fetch and bring back. This can go on for an hours, she's precious and I enjoy given her lots of love.
I will be making a braided rope doggie toy and showing you how to make your own. This is a wonderful craft to make with your kids. My girls enjoyed making it for our doggie and want to make some more for the furry friends we have in our neighborhood. They'll surely enjoy a new toy made with lots of love.
Felt Braided Rope Dog Toy DIY
Materials:
Choose 3 sheets of felt (colors of your choice)
Scissors
Ruler
Pen/pencil
Directions:
Cut one (2″ by 12″) from each sheet.
Layer one over the other until you end up with the 3 pieces over one another.
Make a knot on one of the ends of your felt strips. Tighten as much as you can.
Start braiding. Once you reach the end make a knot to keep the braid together.
Tighten the knot.
Now you have a lovely felt toy in the colors of your choice that will become your furry pet's favorite.
Repeat as many times as you wish and give away to other furry friends or for your very own pet.
Tell me, how do you spend time with your precious furry friend to keep her/him active?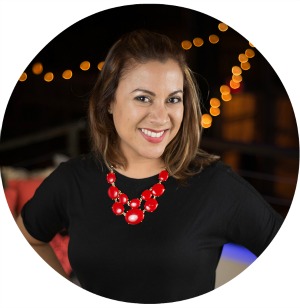 Hi there! I'm Wanda – the creator and author at My Sweet Zepol a healthy food, travel, and lifestyle blog. Passionate about food photography, food styling, entertaining and advocate about creating memories around the kitchen table. With a mission to create easy-to-make meals for the busy family.