If you are anything like me you will agree that any day is s'mores day. My daughters loves the combination of melted chocolate with a crunchy yet melted marshmallow and a cracker that is sweet and irresistible. We make s'mores all year round with the ease of making them indoors. No need for a fire pit or camping out in the wilderness.
Just a microwave or toaster oven. I made a quick run to my local Walmart and not only did I get my s'mores ingredients, but I also stock up on some fresh fruits for an extra texture and flavor. I found my s'mores ingredients on the far end of the supermarket where the season items are normally located at. Keep your eye on the entire store since they tend to be placed differently according to your state or county.
The wonderful thing about s'mores is that they take less than 10 minutes to make and is a treat that kids and grown ups loves. I always try to have Hershey's Milk Chocolate Bars (sold 6pk in Walmart), Kraft Jet Puffed Marshmallows and Honey Maid Graham Crackers Squares (exclusively at Walmart) in my pantry because when I have unexpected guests I can feel like the best hostess in the world.
A great way to make your indoors s'mores is by having the assistance of your kids. The microwave version of this triple berries indoor s'mores is very kids friendly. Both my daughters enjoy helping me in the kitchen and this is a wonderful way to make memories with them. Triple berries s'mores in the microwave takes only 5-8 seconds, how awesome is that?
Triple Berries Indoor S'mores
S'mores made indoors "under 10 minutes" with a combination of three different berries, perfect for any night of the year or for those unexpected guests. You will be the best hostess ever!
Ingredients
6pk Hershey's Milk Chocolate Bars 
Honey Maid Graham Cracker 
Squares Kraft's Jet Puffed Marshmallows 
Strawberries (cut in slices) 
Raspberries (cut in halve) 
Blueberries
Instructions
Microwave:
Cut the strawberries in slices, the raspberries in halves and you ca leave the blueberries whole.
Place on a bowl and set aside.
On a microwave safe plate place Honey Maid Graham Cracker Squares and top with Kraft's Jet Puffed Marshmallows. Place two at a time or as many as you can fit on the plate.
Microwave for 5-8 seconds, keep an eye on it. You don't want the marshmallow to heat to much or it will puff very high and spread once its melting.
Remove from the oven, place the berries as you wish.
Top with another Honey Maid Graham Cracker Square.
Enjoy!
Nutrition Information:
Yield: 8 Serving Size: 1
Amount Per Serving: Calories: 50Total Fat: 2gSaturated Fat: 1gTrans Fat: 0gUnsaturated Fat: 0gCholesterol: 1mgSodium: 14mgCarbohydrates: 9gFiber: 0gSugar: 7gProtein: 1g
If you wish for a more toasted marshmallow a great tool we use is our toaster oven. It's small, fast and convenient. Just broil the marshmallow over a graham cracker for 3-5 minutes (keep an eye on it) and your end result is a s'mores that tastes and feels like it was made outdoors on a camping trip. Once you are done add the triple berries and another graham cracker and enjoy! My family and friends loves it when I make them s'mores and add different twists, it makes them want to come back another night.
I've shared how we create fun, tasty, and memorable experiences with S'mores in my house. I'd love to hear your favorite way to make and enjoy S'mores!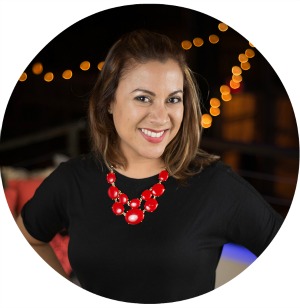 Hi there! I'm Wanda – the creator and author at My Sweet Zepol a healthy food, travel, and lifestyle blog. Passionate about food photography, food styling, entertaining and advocate about creating memories around the kitchen table. With a mission to create easy-to-make meals for the busy family.