Last weekend was the 3rd Annual Florida Blogger and Social Media Conference. I was there for their 1st year and couldn't assist on the 2nd year, I was in a road trip with my dear family. Since I wanted to make sure I attended this years conference, I bought my ticket early, (about 5 months before the big day) to make sure I wasn't going to miss it.
It has been a great refreshment attending a conference that it is so diverse in attendees. I met so many bloggers with a voice in many topics other than food, which is what I blog about here. Met new friends and got together with old friends. It's always a great treat to attend a conference, not only for the wonderful people you meet, but also for the great topics that are offered all through out the day.
This years main message was "Aiming for Awesome". Those words have stayed with me. I must confess that I was feeling a little down lately and had questioned my blog. The time I spend developing recipes, taking and editing pictures, putting on paper the story behind the recipe and by the time you finally publish the post a good 5-8 hours have gone by. Not to mention what happens when the recipe doesn't go well on the first try. I supposed one of the main concerns I was having is how to connect more readers to the posts. Social media is big and has many roads.
After attending Florida Blogger Conference 2013 I started to feel a different air blowing my way. I was more calm, more inspired, felt like the sessions I attended where just for me. Loved that every speaker had a goal, that each and everyone attending left that day with something. More knowledge on some of the tools available to help us blog, connect and be awesome at it.
The dynamic was simple, after a healthy breakfast we all gathered for a welcoming from Bahama Breeze and the great Pat Williams (that I had not had the pleasure to hear speak before, but found it to be very motivating). The day was divided into sessions that you had to choose to attend. Let me just say that it was a difficult decision. They were all so good and the speakers….amazing.
The sessions where divided into categories. Beginner & Intermediate, Money & Business of Blogging, Social Media Tools, Website Building and Bonus Session.
(Ford After Party)
We all enjoyed a delicious lunch by Bahama Breeze and an After Party hosted by Ford. The entire day was packed with great speakers, delicious food and topics that not only taught us something valuable, but inspired us beyond words. This kinda of event doesn't happen overnight, there was an entire team involved that made Florida Blogger and Social Media Conference an event to remember.
I wish to send a big shout out to the amazing planning committee; Bess, Ben, Brian, Jeanette, Joe, Josh and Katy. Thank you all for putting this together and giving us the opportunity to not just get together on a lovely Saturday, but also take with us very valuable information to put to good use. You guys rock! Thank you!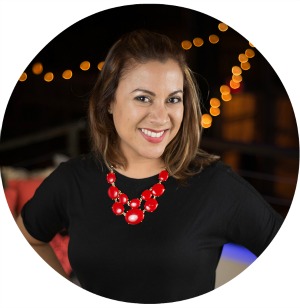 Hi there! I'm Wanda – the creator and author at My Sweet Zepol a healthy food, travel, and lifestyle blog. Passionate about food photography, food styling, entertaining and advocate about creating memories around the kitchen table. With a mission to create easy-to-make meals for the busy family.