My daughters love arts. Painting with watercolor, acrylic, coloring pencils, and markers. They love making things and even more when I display their art around the house. I want to share with you a fun watercolor painting using glue. It's a blue gel school glue that when dry it can be peeled off from the canvas leaving that space white after you paint with watercolor. Awesome, right? And super doable too. Making any art a master piece.
Being a teenager is an exciting time, there are many activities she loves doing. As a mom I love to fuel the activities she loves, have fun, and make fun teenage memories. Let me share with you the steps to make a watercolor art that you will want to display for everyone to see.
Glue and Watercolor Art Canvas
Materials Needed for the Glue Art:
Canvas
Blue Gel glue
Watercolor
Paint brushes
Steps to Follow:
Before making your art you need to have your painting all planned so you know exactly where the highlights or areas you will want to preserve with the glue are.
Use a brush to apply the blue gel glue.
Once you are done with the brush, clean it as soon as possible with soap and water. Take care of your brushes.
Wait for the blue glue to be thoroughly dry before starting to paint, otherwise it might mix with your paint. The time you can safely keep the blue glue on the canvas depends on a number of factors, including the brand, external temperature, expiration date, etc. We left our canvas dry for about a couple of hours checking on it every 30 minutes. Overnight works too.
When the painting is completely dry, you can either use a rubber pick up tool, or just peel off the blue glue by pulling it gently.
Now, display your art as the proud parent that you are. I did!
Teenagers love creating artworks that connects them with their inner artist. We recommend drawing with a pencil the artwork of your choice and decide which part of that piece of art will be covered by the glue.
Glue helps preserve the background of the paper or canvas intact before adding watercolor or the medium of choice. You can dream up any artwork your heart desires and even theme them by seasons and holidays throughout the year. The possibilities are endless.
Now, share with us what glue art will you be making and what inspired you!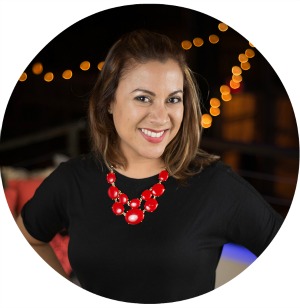 Hi there! I'm Wanda – the creator and author at My Sweet Zepol a healthy food, travel, and lifestyle blog. Passionate about food photography, food styling, entertaining and advocate about creating memories around the kitchen table. With a mission to create easy-to-make meals for the busy family.