Years ago I made this hot cocoa cake roll for a dinner at a friends house and it was the perfect ending to a fun night. That recipe had fresh fruits in it. For this one I added fresh raspberries on the side only, because my goal was to honor a classic recipe for this season of the year; hot cocoa! A drink everyone enjoys specially on cool days, like this ones.
There's something about watching a snow fall and holding a mug filled with hot cocoa, right? I'm sure I'm not alone here. My kids loves hot cocoa with the classic floating mini marshmallows. YUM! I can smell it right now. So good. Warm, soft, creamy, nostalgic and simply delicious. You can't go wrong with some hot cocoa, and that's why I'm sure you'll love this hot cocoa angel food cake roll.
[ultimate-recipe id="5171″ template="default"]
A cake roll filled with mini marshmallows says much more than words can. It's fluffy, soft, sweet and smooth. It's perfection in every bite. Top it with cocoa powder, add some extra cool whip on the side with a handful of fresh raspberries, grab a fork and enjoy the flavors of the season. It's magical all over.
There's something about a cake roll that makes me all poetic. The flavor possibilities are endless and can be enjoyed year round. When was the last time you had a slice of a cake roll and what flavor was it?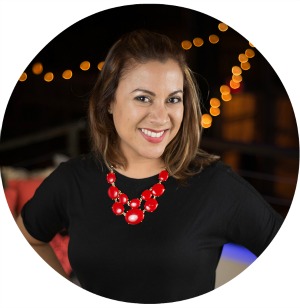 Recipe Developer / Food Photographer / Social Media Influencer
Making memories around the kitchen table and capturing them with my camera is where you'll find me. Unless I'm boarding a plane or on a road trip somewhere with my girls.