Years ago I made this hot cocoa cake roll for a dinner at a friends house and it was the perfect ending to a fun night. That recipe had fresh fruits in it. For this one I added fresh raspberries on the side only, because my goal was to honor a classic recipe for this season of the year; hot cocoa! A drink everyone enjoys specially on cool days, like this ones.
There's something about watching a snow fall and holding a mug filled with hot cocoa, right? I'm sure I'm not alone here. My kids loves hot cocoa with the classic floating mini marshmallows. YUM! I can smell it right now. So good. Warm, soft, creamy, nostalgic and simply delicious. You can't go wrong with some hot cocoa, and that's why I'm sure you'll love this hot cocoa angel food cake roll.
Hot Cocoa Angel Food Cake Roll
Yield: 8

Prep Time: 10 minutes

Cook Time: 20 minutes

Passive Time: 2 hours

Total Time: 2 hours 30 minutes

A cake roll that is light, airy and creamy. With a delicious touch of cocoa and marshmallows that will have you wanting a side of a warm hot cocoa to go with it!
Ingredients
1 (16oz) box Angel Food Cake Mix, plus ingredients to prepare as directed
1/3 cup Cocoa Powder, plus more for dusting, I used Guittard Chocolate
8 ounce Cool Whip Extra Creamy, I used Kraft
1 cup Mini Marshmallows, I used Kraft Jet-Puff Marshmallows
1 cup Semi Sweet Chocolate Chips, I used Guittard Chocolate
1/4 cup Powder Sugar, plus more, for dusting
Fresh Raspberries, optional, for decoration
Instructions
Heat oven to 350 degrees and line a 10x15x1 rimmed sheet pan with parchment paper. Do not grease the pan. Set aside.
Whisk dry cake mix with the cocoa powder until well combined. Prepare the cake mix according to package instructions.
Pour into prepared pan and bake for 20 minutes, until the edges start to crack. Note: The cake will rise up in the pan, but should not flow over.
Loosen cake from the edges of the pan while it's still warm. It can be a little sticky, like an angel food cake, but it will come away easily.
Spread out a clean lint free kitchen towel and sprinkle 1/4 cup powder sugar evenly all over the kitchen towel.
Flip the warm cake out onto the sugar dusted kitchen towel. Peel the parchment paper off the back side of the cake.
Start rolling the cake up with the kitchen towel, starting at the short end of the cake. With the towel rolling with the cake inside.
Let the cake cool completely at room temperature for a couple hours or pop it into the freezer up to 20 minutes if in a hurry. Note: It's important to let the cake cool completely before adding the cake filling.
Gently unroll the cooled cake (leave it laying on the towel, if you'd like) and spread the cool whip over the top of the cake.
Then spread the mini marshmallows and semi-sweet chocolate chips.
Carefully roll the cake bake up (without the towel).
Place the cake on a serving plate with seams facing down.
Sprinkle the top with powder sugar and cocoa powder and add some fresh raspberries if desired.
Serve right away or you can keep it chilled in the fridge for a few hours before serving.
Enjoy!
A cake roll filled with mini marshmallows says much more than words can. It's fluffy, soft, sweet and smooth. It's perfection in every bite. Top it with cocoa powder, add some extra cool whip on the side with a handful of fresh raspberries, grab a fork and enjoy the flavors of the season. It's magical all over.
There's something about a cake roll that makes me all poetic. The flavor possibilities are endless and can be enjoyed year round. When was the last time you had a slice of a cake roll and what flavor was it?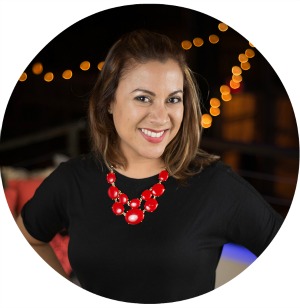 Hi there! I'm Wanda – the creator and author at My Sweet Zepol a healthy food, travel, and lifestyle blog. Passionate about food photography, food styling, entertaining and advocate about creating memories around the kitchen table. With a mission to create easy-to-make meals for the busy family.