In Florida the weather is lovely year round. Even on its coldest days it's still a beautiful day to enjoy the outdoors. That's when the grill comes in handy. Everyone gather around the patio table while the food is cooking away. The girls giggle, the dog goes crazy with the dog, and my husband and I move back and forth to finish dinner. One of my favorite things to do on the grill is fresh green beans. I love grill marks on my veggies. Are you with me on this?
When the outdoors are not in our favor because it's raining we use an indoor grill and call it a day. We have one we got years ago and it's our go to grill option. I want to share with you this grilled green bean recipe with a nice lime cilantro-habanero taste. It's a sauce from Fire Fruits Artisanal Hot Sauce, you can find it at your local Publix or online. Trust me, you want this sauce and while you're there you can check out other varieties they offer. I still have to try them all.
Lime Cilantro-Habanero Grilled Beans
Yield: 4

Prep Time: 5 minutes

Cook Time: 10 minutes

Total Time: 15 minutes

Green beans with a twist that will have you wanting seconds. Lime cilantro-habanero grilled green beans will be in your dinner table many, many times. Is that good!
Ingredients
1/4 cup olive oil
3 cloves garlic, minced
1 teaspoon Ground Cumin
2 cups Fresh Green Beans, washed and trimed
1/2 tablespoon Lime Cilantro-Habanero Sauce, from Fire Fruits Artisanal Hot Sauce
1/2 teaspoon Salt, or more to taste
1/4 teaspoon Ground Pepper, or more to taste
Instructions
Heat the grill.
In a large bowl whisk together olive oil, and minced garlic.
Toss in the green beans and mix until evenly coated.
Place beans on the grill on an even layer.
Cook until unevenly charred, 10-12 minutes. Depending on the amount of char you like.
Transfer beans to a serving bowl and season with the lime cilantro-habanero sauce, salt and peper.
Serve immediately,
Enjoy!
Make enough for the next day. I am saving some left overs for work tomorrow. Enjoy with your favorite meat, and another side of your choice. My favorite is salmon and orzo. This post is making me hungry, YUM! This will be an amazing side dish for large gatherings, specially during the holidays. You can add as much or as little of the lime cilantro-habanero sauce as you wish. I went a little at a time for the kids and a little more for the grown ups.
Are you a grilled veggie lover? What's your favorite thing to grill and do you enjoy some kick on your food? This lime cilantro-habanero sauce might become one of your favorite. Keep it in your radar for your next dinner.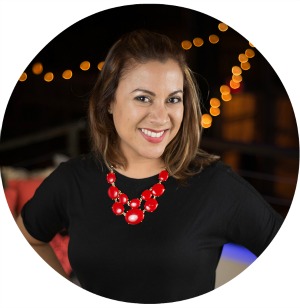 Hi there! I'm Wanda – the creator and author at My Sweet Zepol a healthy food, travel, and lifestyle blog. Passionate about food photography, food styling, entertaining and advocate about creating memories around the kitchen table. With a mission to create easy-to-make meals for the busy family.