One of my friends has a huge sweet tooth. You probably know a person or two as well. It's not a bad thing to have, but oh boy, does she love her sweets. We try to help her in the control area. But, when she gets sick or is a little down I love baking her favorite. And those are, some homemade melt in your mouth alfajores cookies. Those are her favorite and with the dulce de leche filling, I think she's up to something with this cookie.
This cookies are truly delicious, scrumptious, and will absolutely melt in your mouth; even days after baked. Making your own dulce the leche is super easy too, but there's nothing wrong with buying some. Make sure you slab as much or as little of it on each set of cookies as you wish. They travel well too making them perfect for a care package. Who wouldn't want to receive some alfajores? I'm raising my hand way up high and I bet so are you.
Here's how to I made them.
Melt In Your Mouth Alfajores Cookies
Yield: 20

Prep Time: 45 minutes

Cook Time: 15 minutes

Total Time: 1 hour

If you are craving some cookies with a tall glass of milk (or coffee), I got you covered with some homemade melt in your mouth alfajores cookies filled with dulce de leche. A Latin cookie recipe you will love and want seconds off.
Ingredients
1 cup Cornstarch
3/4 cups Flour
1 teaspoon Baking Powder
1/2 teaspoon Baking Soda
1/4 teaspoon Salt
8 tablespoons Butter, unsalted, softened
1/3 cup Sugar
2 large Egg Yolks
1 tablespoon Brandy
1 teaspoon Vanilla Extract
1 cup Dulce de Leche
Powder Sugar, for dusting over cookies
Instructions
Mix the dry ingredients (cornstarch, flour, baking powder, baking soda, and salt) together and set aside.
In a mixer bowl, beat softened butter and sugar until fluffy and creamy.
Add egg yolks, mix until all is incorporated.
Add vanilla extract, brandy and mix well. Set aside.
At this point, add the dry ingredients into the butter mixture and work together until all is combined and the dough is soft.
Cover and chill the dough for 2 hours.
After the time has passed go ahead and heat the oven to 325 degrees. Line baking sheets with parchment paper and set aside.
Divide dough into half. Keep one refrigerated while you work with the other half.
On a floured work surface, roll out dough to a thickness of 1/4 inch. Cut inot 2 inch rounds and transfer to prepared baking sheets.
Repeat rolling/cutting with 2nd half of chilled dough.
Bake for 12 to 15 minutes or until done. The cookies should be dry but not brown.
When cookies are cool, match them up into pairs with those of similar size or shape, (when transferring the cookies they may move a little and it's shape may shift/change).
Turn one cookie over and spread a dollop of dulce de leche onto the flat part of the cookie. Place the other on top (flat side down) and gently press so that the caramel comes to the edges. Place on the rack and continue with the rest of the cookie pairs.
When ready to serve, sift a light layer of powdered sugar over the tops of the cookies and place them on a serving platter.
Enjoy!
Nutrition Information:
Yield: 20 Serving Size: 1
Amount Per Serving: Calories: 163Total Fat: 7gSaturated Fat: 4gTrans Fat: 0gUnsaturated Fat: 3gCholesterol: 44mgSodium: 115mgCarbohydrates: 22gFiber: 0gSugar: 12gProtein: 2g
Rounds are the typical shape used for these cookies. You can make them in different round sizes. Wouldn't that be pretty? I say, try making the alfajores using other shapes as well. There's no rule set on stone anywhere about how you shape cookies. Go, have fun. Bake a batch or two and share with those around you. Everyone will love getting their hands on this melt in your mouth goodness of a cookie.
Have you had alfajores before? Maybe you have made them or maybe you have been wanting to find a great alfajores cookie recipe to make at home. I'm glad your here, because this recipe is the best one! Trust me, it is.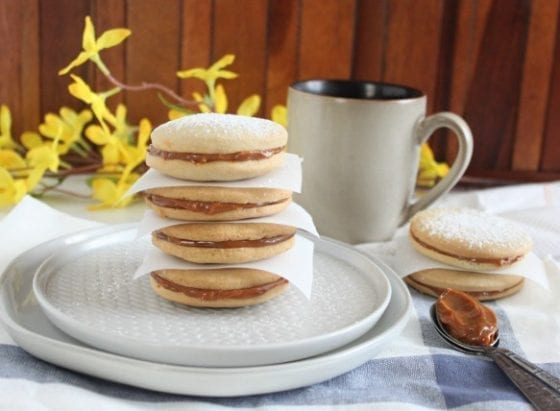 Now, lets get the conversation started. Have you had alfajores cookies before? Share with me in the comment section below.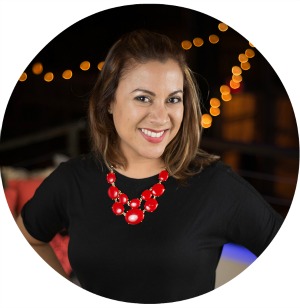 Hi there! I'm Wanda – the creator and author at My Sweet Zepol a healthy food, travel, and lifestyle blog. Passionate about food photography, food styling, entertaining and advocate about creating memories around the kitchen table. With a mission to create easy-to-make meals for the busy family.