Pizza lovers out there I have good news for you, MidiCi The Neapolitan Pizza Company is now in Kissimmee, Fl in The Crosslands Shopping Center. If you have been in around this part of town you know this area is very up and coming. You can enjoy some shopping and then grab a bite. Making any day a perfect one!
MidiCi offers delicious Neapolitan pizza and inspired Italian dishes crafted in their center-stage kitchen, known as "The Heart". Providing pizza lovers with an upscale dinning experience while maintaining the ease and affordability of a casual restaurant concept. The space urges guests to make memories over a gourmet meal next to a signature indoor tree. Something you don't see around very often.
The minute you walk in you are greeted by a friendly staff and handed a menu. Dinners can select from traditional and signature menu options or create their own personalized Neapolitan pizzas.
They also offer a good selection of fresh served salads, which are accompanied by a wood-toasted Neapolitan bread.
We enjoyed…
The Sweet Life Salad, with a sweet and tangy combination of baby arugula, seasonal greens, blackberries, raspberries, blueberries, strawberries, fresh melon, lemon vinaigrette dressing with shaved and shredded coconut.
The other salad is one that reminds me about my mom's cooking. She used to make a salad very similar to this one. The Rock Shrimp and Avocado salad. Fresh whole hearts of romaine lettuce, baby arugula, rock shrimp, fresh avocado, Italian capers, kalamata olives, golden corn, garbanzo beans, bell peppers and a lemon vinaigrette dressing.
We also had to sample a burrata. A burrata is a cheese made of mozzarella and cream. It's the creamiest cheese you will ever taste. We enjoyed a burrata with purple kale, grape tomatoes and house pesto. All of the burrata plates are served fresh, with balsamic reduction and wood fire-roasted ciabatta bread. I can eat this dish all day, everyday and I'll be one happy girl! So good.
MidiCi bakes its pizzas to perfection in 90 seconds in a wood-fire oven, imported from Naples, Italy that fires up to 1000 degrees. It's temperature change allows the pizza to reach its perfectly baked form. Amazing, right?
We enjoyed…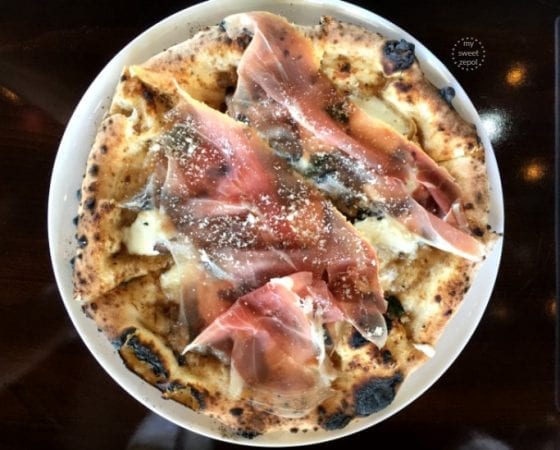 A, melt in your mouth, Truffle and Prosciutto di San Danielle Pizza. Made with a delicious truffle cream, fresh whole mozzarella, all natural fresh mushrooms, parmigiano-reggiano, fresh organic sweet basil, organic extra virgin olive oil, topped with prosciutto di San Daniele.
The second pizza is another great choice, Pizza Primavera. With some additions, like the peppers and kalamata olives. That's one of the beauty about this restaurant, you can customize your pizza with all your favorite ingredients. No need to go by the book if you don't wish to. There's always something for everyone.
Save room for dessert! You can enjoy a serving of handcrafted Gelato in small batches using only premium and natural ingredients and flavors. Gelato flavors are chocolate, vanilla and Nutella. And you also enjoy a strawberry sorbet. Or you can order the Signature Nutella Calzone with fresh berries. You will never go wrong with either choice!
MidiCi's selection of drinks includes wood-fire roasted coffee, a gourmet tea collection, craft beer, and a collection of wines selected by our sommelier to reflect a mix of American classics, flavors of Italy, global highlights, and local staples – all with pairing in mind. This is what I call, attention to details.
We finished our meal with a delicious Drowning Gelato – Vanilla Gelato and a Nutella Gelato (both) in freshly-brewed espresso. The perfect end to an amazing meal.
They also love taking pictures of their guests having a great time and making memories with loved ones. You will find me and my sweet blogger friend Anna-Marie from Beauty and the Beets. It's super fun and something I had not seen before in a restaurant. Go, order some food, have a great time with family and/or friends and get your picture taken.
Now, tell me, have you been to MidiCi before? If you are in the area and are looking to trying this pizza place out, let me know. We can meet up!
Visit MidiCi The Neapolitan Pizza Company /720 Centerview Blvd. Kissimmee, FL 34741 / Facebook / Twitter / Instagram

Disclosure: We were invited by MidiCi for a wonderful meal. No other compensation was included. All opinions are 100% my own.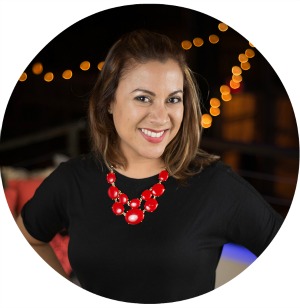 Hi there! I'm Wanda – the creator and author at My Sweet Zepol a healthy food, travel, and lifestyle blog. Passionate about food photography, food styling, entertaining and advocate about creating memories around the kitchen table. With a mission to create easy-to-make meals for the busy family.