I completely love biscottis, specially if they have chocolate included. This is a semi-homemade recipe, which I am ok with. This biscottis are delicious. The combination of the mint and the caramel taste from the toffee bits are a perfect combination.
Then the white chocolate on one side gives them an extra flavor, an extra boost. They don't need it, this is an optional step. But, I'm glad I did it, the white chocolate is a nice touch. I hope you give this recipe a try, you'll love them. Easy to make and a perfect ending to any meal or just as a treat with a cup of tea. It's perfect!
Mint Chocolate Toffee Biscotti
Ingredients
1 Package Chocolate Cake Mix (I used Duncan Hines Moist Deluxe Dark Chocolate Cake Mix)
1 cup All Purpose Flour
1/2 cup Butter
2 Eggs
1 teaspoon Almond Extract
1/2 cup Mint Chocolate Bits
1/2 cup Milk Chocolate Toffee Bits
White Chocolate, melted (optional)
Directions
Preheat oven to 350 degrees. Line a cookie sheet with parchment paper and set aside.
Combine cake mix, flour and butter together.
Add in the egg and almond extract.
The dough will start to take form.
Add in the mint chocolate bits and the milk chocolate toffee bits. I did this step by hand.
Divide the dough in half.
Shape each half into 12×2 inch logs, approximately.
Place one log in a cookie sheet and bake for 25-30 minutes. Or until a toothpick inserted in the center comes out clean. (Bake each log separately).
Remove from the oven. Cool on baking sheet for about 15 minutes.
Using a serrated knife cut logs into 1/2 inch slices.
Arrange slices on baking sheet and re-bake for an additional 10 minutes.
Remove biscottis from the sheet, place on a wire rack and let cool completely.
Dip one end of each biscotti in melted white chocolate, if desired.
Makes about 2 1/2 dozen cookies (biscotti).
Enjoy and Share!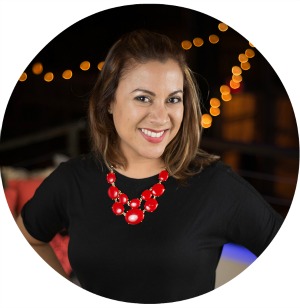 Hi there! I'm Wanda – the creator and author at My Sweet Zepol a healthy food, travel, and lifestyle blog. Passionate about food photography, food styling, entertaining and advocate about creating memories around the kitchen table. With a mission to create easy-to-make meals for the busy family.