Mojito fruit salad, a mojito-spired salad you will want to make over and over!
Mojitos are a fun versatile drink. You can enjoy a classic mojito with rum, mint, lemon and sugar or mojitos can be tweaked with other flavors like passion fruit, orange, strawberry and more. Mouth watery right? With the weather changing and Spring bringing all it's beauty we are celebrating with a fresh salad, mojito fruit salad to be exact.
Here in Florida we have ripped Strawberries and I wanted to take advantage of them. I added other fruits like watermelon, blueberries and pineapple. The kind of fruits I would enjoy any time of the day. Now, this is no boring fruit salad. Here's the recipe, it's easy and so refreshing.
Mojito Fruit Salad
Yield: 8 cups (aprox.)

Prep Time: 15 minutes

Total Time: 15 minutes

Mojito fruit salad is a refreshing salad perfect for welcoming warmer weather and enjoy the company of friends. BBQ days won't be boring anymore.
Ingredients
3 cups Watermelon, chopped
1 pound Strawberries, chopped
6 ounces Blueberries
2 cups Pineapple, chopped
1/4 cup Mint, chopped (packed mint then chopped; not 1/4 cup chopped mint)
1/4 cup Fresh Lime Juice, about 3 limes
3 tablespoons Powder Sugar
Instructions
Add all the chopped fresh fruits into a bowl and toss them together.
In a separate bowl, stir together lime juice and powder sugar. Pour over the fresh fruits. Gently toss with a spatula.
Let the fruit salad sit in the refrigerator for at least 15 minutes before serving. This allows the natural juices in the fruit to start coming out.
Serve and enjoy!
Mix your favorite fruits with a quick and easy light-sweetened lime glaze before serving and toss in some freshly chopped mint. So simple, yet unbelievably delicious.
Great for BBQ days, or when having unexpected guests. I called my girlfriends and treated them to a refreshing mojito fruit salad while we caught up on life. Plan ahead and have a cheese tray and wine served for your guests. This mojito fruit salad is a great addition to any night in.
As you can see even though this fruit salad is named mojito fruit salad and it's obviously mojito-inspired it does not include any rum in it. With that being said, kiddos can enjoy this fruit salad and if you wanted to spike it and turn it into an only-adult treat you can jazz it up with a splash of your favorite rum or sparkling wine. Or here's another idea; take that delicious mojito fruit salad with all its juices and toss a tablespoon or so into a glass of your favorite wine and turn it into a quick sangria.
Alcohol aside, grab this recipe as is and make it. Spring is here, summer will be upon us and lots of gatherings will be happening. Mojito fruit salad for the win!
Now, tell me, what's your favorite fruit combination when enjoying a fruit salad?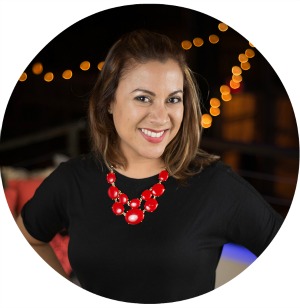 Hi there! I'm Wanda – the creator and author at My Sweet Zepol a healthy food, travel, and lifestyle blog. Passionate about food photography, food styling, entertaining and advocate about creating memories around the kitchen table. With a mission to create easy-to-make meals for the busy family.