Mojo Pork Lettuce Wraps for the win!
There's nothing like a mouth watery bite of mojo pork lettuce wraps. Can you image it? Image this too, a handful of food bloggers taking a trip to learn about pig farming in Michigan. It was a wonderful experience sponsored by National Pork Board. As always all thoughts and opinions found here are my own.
Pork roasted for hours and bathed in a juicy mojo with crunchy pickles over a bed of lettuce and a sprinkle of fresh cilantro. Heavenly! Roasting pork is something my family in Puerto Rico do often. If there's a party, celebration or gathering of some sorts; there's roasted pork involved. Since I don't have an outdoor grill or smoker; I roast indoors. Using my convection oven I roast the pork for hours until the meat is tender and falling apart.
Mojo Pork Lettuce Wraps
There's nothing like enjoying a mouth watery mojo pork lettuce wrap. Pork nested in a lettuce wrap topped with fresh cilantro and crunchy pickles.
Ingredients
Mojo
6 cloves garlic, minced
2 teaspoons Ground Cumin
2 teaspoons Ground Pepper
Salt, to taste
3 juice Limes
1/4 cup Extra Virgin Olive Oil
Fresh Cilantro
Pork
6-8 pounds Pork Shoulder, boneless
Fresh Pickles, optional
Butter Lettuce, loosen leaves and set aside
Instructions
For the Mojo: Combine garlic, cumin, pepper, salt, lime juice, and olive oil in a large bowl and whisk. Taste and make sure you're happy with the amount of salt.
Transfer half of mojo to a sealed container and reserve in the refrigerator.
Add pork to remaining mojo and turn to coat. Refrigerate 2 hours or up to overnight before continuing.
Adjust oven rack to lower-middle position and heat oven to 275°F.
Line a rimmed baking sheet with a double layer of heavy-duty aluminum foil. Place pork and juices on top and fold up foil, crimping to seal loosely but making sure that there is room for air to circulate inside.
Place in oven and roast for 4 hours. Fold back foil, increase oven temperature to 325°F, and continue roasting, basting pork with pan juices occasionally. Add 2 hours until pork shows almost no resistance when a metal skewer or knife is inserted into it and the surface is crackly and brown.
Remove pork from oven and let rest for 10 to 15 minutes.
Pull apart. Add reserved mojo to pork drippings, along with fresh chopped cilantro.
Serve over butter lettuce wraps. Top with small pickles (if desired) and fresh cilantro. Enjoy!
There's nothing like a good mojo and to make this dish even better we served it on butter lettuce. Less carbs, great flavor.
Pig farming is no easy job and one that's easily taken for granted. After visiting a few farms I've gained so much respect for the farming life and the families that do it on a daily basis. The care for the livestock, fields, environment, their family, staff and us as consumers is impressive and humbling. Learn more about pork nutrition here and lets get the conversation started.
Now, let's talk meat cuts. For my mojo pork recipe I used a boneless pork shoulder. You can also use a pork tenderloin and create a pull pork, or a sirloin pork roast. Boneless or bone-in is not an issue for this recipe. What matters most is the seasoning and the cooking process. Make sure you cover your meat with aluminum foil to keep the juices in and use low temperature for a long period of time. This is a slow cooking recipe, but oh so worth it! Here's more info about pork cuts and cooking temperatures; because know how long to cook the meat is a important as knowing which cut to look or ask for.
Tell me, what's your favorite pork recipe? Have you had mojo pork before? Share with me on the comment section below, can't wait to know!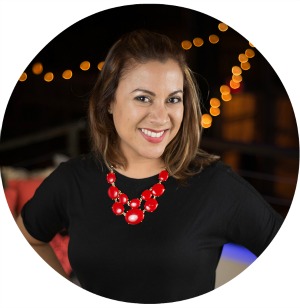 Hi there! I'm Wanda – the creator and author at My Sweet Zepol a healthy food, travel, and lifestyle blog. Passionate about food photography, food styling, entertaining and advocate about creating memories around the kitchen table. With a mission to create easy-to-make meals for the busy family.