As a kid I used to make popcorn in the stove. We didn't own a microwave until I was a teenager. I also loved playing around with flavor combinations. Like this peppermint popcorn recipe!
Everyone relies on me for making the popcorn, I was very good at it. Just about every kernel popped and not one burned. Skills!
Nowadays I use the microwave and in seconds have a beautiful bag of popcorn in hand. Not that I would eliminate the old school way by any means. I love the process and enjoy the end results, either way I make it.
One of my favorite things to do with popcorn is add an extra flavor to it. This time is white chocolate and peppermint candy bits, which "by the way" is perfect for the holidays. My daughters loves this add-on to their popcorn. It's like a party in your mouth.
Peppermint Popcorn
Yield: 2 servings

Additional Time: 3 minutes

Total Time: 3 minutes

This peppermint sweet and salty popcorn snack is addicting! It's perfect for parties, game day, or movie night. We love it!
Ingredients
1 (2.4oz) Sweet & Salty Popcorn bag (Kettle Corn)
6oz of Almond Chocolate Bark
3-4 Peppermint Candies (or left over peppermint candy canes)
Instructions
Pop the kettle corn bag as described on packaging directions.
Melt chocolate in the microwave in 30 second intervals. May take two turns.
Mix after every 30 seconds to determine if chocolate is properly melted.
Lay popcorn on a baking sheet, or a large plate.
Drizzle melted white chocolate over the popcorn.
Lightly hit each piece of peppermint candy with a rolling pin to break into nice size pieces.
Drizzle over the melted chocolate and popcorn.
Let it set for a minute or two and enjoy!
Notes
You will end with a bowl of sweet, salty and peppermint(y) popcorn.
Nutrition Information:
Yield: 5 cups Serving Size: 1
Amount Per Serving: Calories: 314Total Fat: 24gSaturated Fat: 3gTrans Fat: 2gUnsaturated Fat: 20gCholesterol: 0mgSodium: 305mgCarbohydrates: 19gFiber: 6gSugar: 3gProtein: 9g
Pick a movie from your repertoire, make a this peppermint popcorn recipe and cuddle with your family while enjoying a night in. Make memories, that's what it's all about!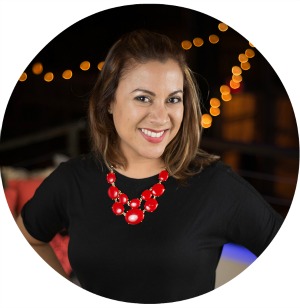 Hi there! I'm Wanda – the creator and author at My Sweet Zepol a healthy food, travel, and lifestyle blog. Passionate about food photography, food styling, entertaining and advocate about creating memories around the kitchen table. With a mission to create easy-to-make meals for the busy family.