DIY teacher's A+ cookie bouquet holiday gift! Easy to make and perfect for your kids to gift to their favorite teachers this year.
Do you have a teacher you still remember from your childhood? A teacher that impacted you so much you still remember her name and they way she inspired you? Teachers work super hard, they don't only have our kids in their classroom, they have about 18 other kids too. They deserve something special as a "thank you". That is where this Double Stuf OREO arrangement comes in. It is a sweet semi-homemade gift to show a truly heart-felt appreciation for loving my daughter so much and teaching her with such passion.
I used the Double Stuf OREO because they hold the stick (or in this case the paper straw) very well. You can find the snack size boxes I used right next to the checkout at Walmart, talking about easy access, right? Those cute boxes are the perfect size for stoking stuffers too and priced affordably so you can buy up a bunch and share them.
My daughter's teachers have been amazing. A true blessing. Specially my youngest daughter's teacher. She also taught my oldest and I am grateful she is in our lives again. She is passionate about literature and has a special way of showcasing the best in each of her students. Kids comes out of her classroom inspired, confident and empowered with a language they never knew they had knowledge of. This cookie bouquet is for her!
Stuffed Oreo Cookie Bouquet
Materials
1 box Snack-Size Double Stuff OREO
6 ounces White Almond Bark (3 squares of the bar)
White Crystal Sprinkles
Instructions
Start melting the white almond bark in the microwave in 30 minute intervals, as needed.
When chocolate is completely melted, dip each cookie half way.
Tip #1: Pinch the tip of the paper straw, dip just the tip into the melted chocolate, then insert it between each cookie into the creamy center of the cookie sandwich. This will help it adhere better once the chocolate hardens.

Tip #2: I waiting until that first coat of chocolate set dry to the touch and dipped them once more. This created a more chocolaty and drippy feeling. Just what I wanted to make them look like snow dripping over the cookie topped with a dash of ice, a.k.a sprinkles.

Quickly sprinkle the top part of each cookie.
As soon as the chocolate hardens tie a cute ribbon on the paper straw.
Place on container of choice and arrange beautifully.










Tell me, I'll love to hear, what do you give your kiddo's teacher as a holiday present?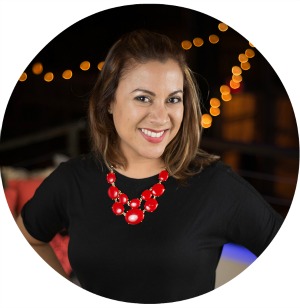 Hi there! I'm Wanda – the creator and author at My Sweet Zepol a healthy food, travel, and lifestyle blog. Passionate about food photography, food styling, entertaining and advocate about creating memories around the kitchen table. With a mission to create easy-to-make meals for the busy family.