Celebrate fall with this delicious pumpkin flan. Flan is a dessert I enjoyed a lot as a kid. It's a delicious dessert that is easy to prepare and everyone I know falls in love with it after the first bite. Today I am sharing with you a pumpkin flan recipe. The basic recipe is a vanilla base making it super easy to get creative by changing flavors by using different ingredients.
Pumpkin Flan
Yield: 12 servings

Prep Time: 20 minutes

Cook Time: 40 minutes

Total Time: 1 hour

Flan is one of those desserts that brings smiles into peoples faces. At least it always does the trick with my family. Plus, it's a great dessert for potlucks. You'll love the wonderful spices in this Pumpkin Flan.
Ingredients
1 12oz can Evaporated Milk
1 14oz can Condensed Milk
1 15oz can Pure Pumpkin Puree
4 large Eggs
pinch Salt
pinck Pumpkin Pie Spice, store bought or homemade (see recipe in the instructions section below)
Candied Pumpkin Seeds, (decoration/optional)
For the caramel
1 cup Sugar
3 tablespoons Water
Instructions
Heat oven to 350 degrees.
Have a 10 inch round baking pan and a larger pan set aside. You want the larger one to use as a hot water bath. Set aside.
In a large bowl mix in the evaporated milk, condensed milk, pumpkin puree, eggs, salt and Pumpkin Pie Spice until well combined. Set aside.
Using a small pot start warming water for the bain-marie (hot water bath).
In the meantime, prepare the caramel. Heat the sugar and water in medium heat. Stirring at all time until it has a nice amber color. Then transfer the caramel to a round baking pan.
Place that baking pan inside the larger baking pan.
Pour the flan mixture inside the 10 in baking pan.
Place on the oven and carefully pour the hot water inside the larger pan. Try not to get any water in your flan mixture.
Bake for 40-50 minutes. Keep an eye on it, ovens temperature may vary.
Insert a tooth pick in the center of the flan to make sure it's completely baked through.
Remove from the oven and let it cool for a while in the water bath.
After about 10 minutes later loosen the edges carefully with a knife. Place a dish over the pan and carefully, but quickly flip transferring the flan from pan to plate.
Cook in the refrigerator for a couple of hours (2-4hrs or overnight).
Decorate with "pepitas", candied pumpkin seeds or whipped cream.
Serve and enjoy!
You can also adapt your flans to complement each season of the year. What flavors would you love to taste on your next flan? Or are you like me, happy with this pumpkin flan? I love the spices and fall flavors. It's like comfort food.
Fall is all about cool weather, warm meals, spice scents and being cozy around your loved ones. What's your favorite fall memory or moment? For me, it's having family and friends around my kitchen table drinking hot cocoa or coffee while eating, chatting, laughing and making new memories.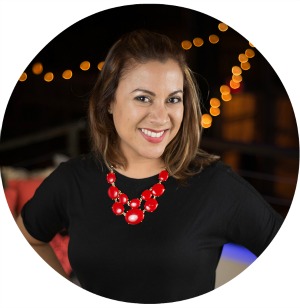 Hi there! I'm Wanda – the creator and author at My Sweet Zepol a healthy food, travel, and lifestyle blog. Passionate about food photography, food styling, entertaining and advocate about creating memories around the kitchen table. With a mission to create easy-to-make meals for the busy family.