We have been hosting Thanksgiving dinner at our house for the past 3 years. From turkey, to side dishes, to appetizers, to desserts, to drinks, well, we do it all. Our idea has been to have the family over and enjoy the season with them. You see; we have a lot to be grateful for and we just want to enjoy life with what matters most; FAMILY.
This year things changed a little. My husband gave me an early present and we spent the week before Thanksgiving in Puerto Rico for my niece's 15th birthday.
Thankfully, when we returned from our great vacations, my mother-in-law pitched in an hosted the dinner at her house. I made the stuffing, lots of dessert and a drink called "Coquito" we make during this time of year, a drink very similar to Eggnog.
The desserts were; Chocolate Pecan Pie, Mini Pumpkin Spice Cupcakes, Pumpkin Whoppie Cookies, Coconut Macaroons and my sister-in-law made a delicious Pumpkin Pie.
Here are some pictures of our Thanksgiving Dinner Desserts (the others were eaten before I could get my camera close by):
Pumpkin Spice Mini Cupcakes
Whoopie Cookies
Since we are in the season of sharing, I wanted to share something with all of you. This is the actual recipe I use for the Pumpkin Whoopies and for Cupcakes. Now don't jump into conclusions, this recipe has a great owner. Matt Lewis from Baked Bakery brilliantly came up with this recipe and I am so grateful that he decided to share it in his book "Baked: New Frontiers in Baking" and in the Martha Stewart Show, where I saw it and started baking it for my loved ones. Go and check the book out, it's an awesome cookbook!
Pumpkin Spice Cupcakes (Pumpkin Spice Woopie Cookies)
Ingredients:
3 cups all-purpose flour
1 teaspoon salt
1 teaspoon baking powder
1 teaspoon baking soda
2 tablespoons ground cinnamon
1 tablespoon ground ginger
1 tablespoon ground cloves
2 cups firmly packed dark-brown sugar
1 cup vegetable oil
3 cups pumpkin puree, chilled
2 large eggs
1 teaspoon pure vanilla extract
For the Cream Cheese Filling
3 cups confectioners' sugar
1/2 cup (1 stick) unsalted butter, softened
8 ounces cream cheese, softened
1 teaspoon pure vanilla extract
FOR THE PUMPKIN WHOOPIE COOKIES
Directions
1. Make the cookies: Preheat oven to 350 degrees. Line two baking sheets with parchment paper.
2. In a large bowl, whisk together dry ingredients. In another large bowl, whisk together brown sugar and oil until well combined. Add pumpkin puree and whisk until combined. Add eggs and vanilla and whisk until well combined. Sprinkle flour mixture over pumpkin mixture and whisk until fully incorporated.
3. Using a small ice cream scoop with a release mechanism, drop heaping tablespoons of dough onto prepared baking sheets, about 1 inch apart. Bake until cookies are just starting to crack on top and a toothpick inserted into the center of each cookie comes out clean, about 15 minutes. Let cool completely on pan.
4. For the filling: In the bowl of an electric mixer fitted with the paddle attachment, beat butter until smooth. Add cream cheese and beat until well combined. Add confectioners' sugar and vanilla, beat just until smooth.
Tip: Filling can be made up to a day in advance. Cover and refrigerate; let stand at room temperature to soften before using.
5. Assemble the whoopie cookies: Line a baking sheet with parchment paper and set aside. Transfer filling to a disposable pastry bag and snip the end. When cookies have cooled completely, pipe a large dollop of filling on the flat side of half of the cookies. Sandwich with remaining cookies, pressing down slightly so that the filling spreads to the edge of the cookies.
Transfer to prepared baking sheet and cover with plastic wrap. Refrigerate cookies at least 30 minutes before serving and up to 3 days.
FOR THE CUPCAKES
Preheat the oven at 350 degrees and line your cupcake pan with liners.
Mix the ingredients the same way as if you were making the whoppie cookies. And use the filling to frost the cooled cupcakes.
Bake them for 15 to 20 minutes or until the tooth pick comes out clean. For some reason oven heat varies from oven to oven, get to know yours and write down the time it takes for your batch to bake.
ENJOY AND REMEMBER TO GIVE THANKS!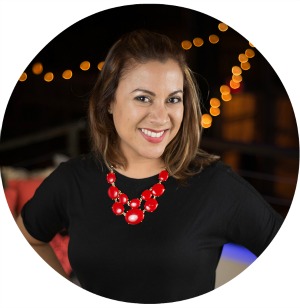 Hi there! I'm Wanda – the creator and author at My Sweet Zepol a healthy food, travel, and lifestyle blog. Passionate about food photography, food styling, entertaining and advocate about creating memories around the kitchen table. With a mission to create easy-to-make meals for the busy family.