National Pancake Day! This may be the best reason, if any is needed, to have breakfast for dinner. Treat yourself to some Red Velvet Pancakes today, or any day for that matter. We love red velvet anything, be it cake, cake pops, cookies, cupcakes or pancakes.
They are fluffy, buttery, with a cocoa taste and absolutely divine. Want to know how we made them? Use your pancake mix of choice, add about 1 teaspoon of cocoa powder and red food coloring. Easy peasy, no fuss here! Another tip? Ok, use a Red Velvet cake mix and instead of baking a cake make pancakes, many…many pancakes.
I topped the Red Velvet Pancakes with natural Maple Syrup and whipped cream. But, didn't stopped there, I paired our pancakes with a side of  scramble eggs with ham and cheese. A side that seems to melt in your mouth. It is moist, cheesy, and the best combination for any pancake.
Are you ready for some pancakes?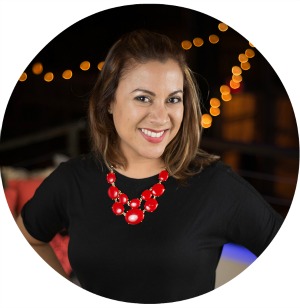 Hi there! I'm Wanda – the creator and author at My Sweet Zepol a healthy food, travel, and lifestyle blog. Passionate about food photography, food styling, entertaining and advocate about creating memories around the kitchen table. With a mission to create easy-to-make meals for the busy family.