You will definitely find an immense amount of chocolate chip cookie recipes and everyone will vow that theirs is the best. Thank goodness for different people, different personalities and different taste buds, (ahh…deep breath).
This chocolate chip cookies recipe may not be a big difference from others around, but it does have some tweaking and poking on it and they are my husbands favorite and that is good enough for me. They are rich in chocolate, a bit crunchy on the outside and soft inside. Are you ready for the ride? Well lets get to it!
Rich Chocolate Chip Cookies
(recipe by Wanda Lopez, My Sweet Zepol)
Ingredients
1 1/2 cups + 2 tablespoons Flour
1/2 teaspoon Baking Soda
1/2 teaspoon Salt
2/3 cup Butter (at room temperature)
1/2 cup + 2 tablespoons Sugar
1/2 cup Brown Sugar
1 Egg
1 teaspoon Vanilla Extract
1 package (12 oz.) Semi-sweet Chocolate Chips
Directions
Preheat oven to 375 degrees. In a medium size bowl add the dry ingredients (flour, salt, baking soda), whisk and set aside.
Beat butter and sugars in an electric mixer at medium speed until light and smooth.
Add egg and vanilla extract.
Slowly add the dry mixture at low speed until well combined, don't over mix.
With a spatula stir in the chocolate chips.
Tip: refrigerate the cookie dough for about 30 minutes before baking.
Drop tablespoons of cookie dough about 1 inch apart onto a cookie sheet. I use a small ice cream scoop.
Bake for 8-10 minutes or until golden brown.
Cool for about 1 minute, remove to wire racks to cool completely.
Makes about 2 1/2 dozens.
I always double this recipe and keep cookie dough in the fridge for whenever there is someone with a sugar rush around. Let's face it, my family is always on a sugar rush.
Enjoy and share!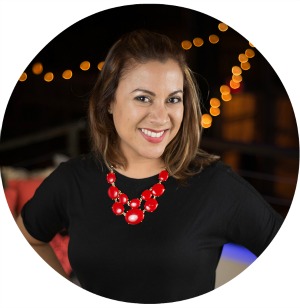 Hi there! I'm Wanda – the creator and author at My Sweet Zepol a healthy food, travel, and lifestyle blog. Passionate about food photography, food styling, entertaining and advocate about creating memories around the kitchen table. With a mission to create easy-to-make meals for the busy family.