Easy roasted chickpeas meatless fajitas recipe. A healthy, refreshing, vegan free fajita recipe for any busy weeknight.
Lent season is here. My mom was always a great advocate on preserving the tradition of eating certain food items during this time of the year. Now, as a mom, I'm always looking for recipes to make and ways to introduce new flavors into our menu. I was inspired to create a Lent-friendly recipe by Knorr's® Black Bean Salad. You can try this salad by visiting in-store events on selected stores in the following states (Arizona, California, Florida, Texas) in the upcoming weeks! In the meantime try my take on roasted chickpea meatless fajitas. No one will miss the meat here, this fajitas are packed with flavor and it's a favorite in my house.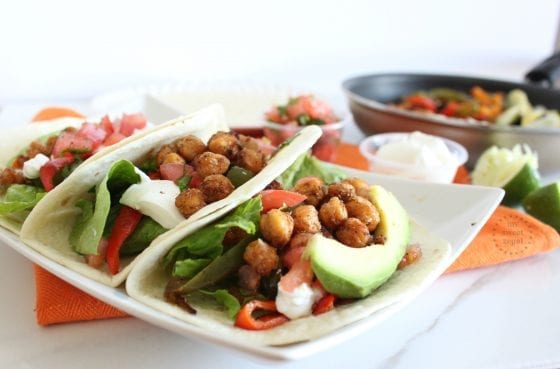 Roasted Chickpea Meatless Fajitas
Yield: 6 fajitas

Cook Time: 40 minutes

Total Time: 40 minutes

Roasted chickpeas makes a great meal or snack. Try this meatless fajitas with the most delicious roasted chickpeas you've ever had!
Ingredients
For the chickpeas
1 (15oz ) can Chickpeas, drained and rinsed
1 teaspoon Chili Powder
1/4 teaspoon Garlic Powder
1/4 teaspoon Onion Powder
1 1/2 teaspoon Knorr® Tomato with Chicken Flavor, granulated bouillon
1 tablespoon Lime juice
2 tablespoon Olive Oil
For the Fajitas
1 tablespoon Olive Oil
1 medium Onion, sliced
1 clove Garlic, minced
3-4 any color Sweet Bell Peppers, sliced
1 medium Green Pepper, sliced
1 teaspoon Knorr® Tomato with Chicken Flavor
1 teaspoon Chili Powder
Salt and Pepper, to taste
1/3 cup Cilantro, chopped
4-6 Flour Tortillas
1 medium Tomato, diced
2 medium Avocados, sliced
Plain Greek Yogurt, or Sour Cream
Lime wedges, optional
Instructions
To roast the chickpeas; heat the oven to 400 degrees.
Prepare a baking pan with parchment paper, set aside.
In a medium bowl, combine dry ingredients with the olive oil and lime juice. Toss in the drained and rinsed chickpeas.
For this recipe, I used the 2.2 lb version of the Knorr® Tomato with Chicken Flavor Granulated Bouillon.
Bake for 25-30 minutes, tossing once during cooking, until chickpeas are slightly crispy.
In the meantime, heat olive oil in a large skillet over medium high heat.
Add peppers, onion, garlic, seasoning and cilantro. Cook for about 5 minutes or until vegetables are tender.
Spoon roasted chickpea and vegetable mixture evenly in the center of warm tortillas, garnish with tomatoes, avocado slices, and greek yogurt or sour cream. Roll up tortillas, serve immediately and enjoy!
Nutrition Information:
Yield: 6 Serving Size: 1
Amount Per Serving: Calories: 518Total Fat: 26gSaturated Fat: 5gTrans Fat: 0gUnsaturated Fat: 19gCholesterol: 29mgSodium: 628mgCarbohydrates: 54gFiber: 11gSugar: 7gProtein: 21g
Flavor is something I don't mess around with. One of the things I learned early on was to always taste the food while cooking. On days when I am rushing through cooking time it shows in the final result.
That's why I always rely on fresh seasonal ingredients as much as possible and always – always good seasoning. For generations we have been using Knorr®.
First, my grandmother then, my mom, my sister, me, and now I am passing the tradition down to my daughters. Knorr® adds authentic flavor to a traditional or to any every day dish.
Knorr® Tomato Bouillon with Chicken Flavor is perfect for many dishes, such as pollo guisado (chicken stew), arroz con pollo (rice with chicken), sopas (soups), tacos, this amazing roasted chickpea fajitas and many more. For more recipes and tips, visit Knorr.com you will love every recipe you find there.
Enjoy Lent season and add the rich authentic Latino flavor of Knorr® to all of your dishes. You will thank me later. Knorr® is amazing at giving your dishes another level of flavor that you didn't even know you needed in your life. Plus, I have a gift for you! Here's a coupon for you to save on your next Knorr® purchase.
I got mine at my local Walmart in the Hispanic Aisle.
What's your favorite meatless recipe?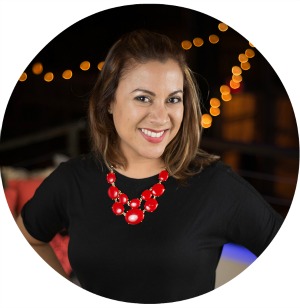 Hi there! I'm Wanda – the creator and author at My Sweet Zepol a healthy food, travel, and lifestyle blog. Passionate about food photography, food styling, entertaining and advocate about creating memories around the kitchen table. With a mission to create easy-to-make meals for the busy family.