Panna Cotta is an Italian dessert with a custard consistency. It is very versatile, you can change the flavors and add fruit sauces, turning it into a whole new dessert. Something I love, a lot! Easy to make, yet delicious desserts (food).
This is a make-ahead dessert, perfect for entertaining. Serve it in wine glasses at your next dinner party, or in tiny shot glasses for a larger gathering. Just add the strawberry sauce before serving. The strawberry sauce has a tangy aftertaste that complements very well with every creamy spoonful.
Strawberry Vanilla Panna Cotta
Yield: 6

Prep Time: 15 minutes

Passive Time: 4 hours

Total Time: 4 hours 15 minutes

An European vanilla custard texture dessert topped with a fresh strawberry sauce surprising every smooth tablespoon a tangy taste. Perfect for dinner parties or gatherings.
Ingredients
1/2 tablespoon Gelatin Powder
2 tablespoons cold Water
1 cup Milk
1 cup Whipping Cream
1/4 cup Sugar
1 teaspoon Vanilla Extract
Strawberry Sauce
1 pound Fresh Strawberries
1 tablespoon Water
1/3 cup Sugar
Instructions
Dissolve gelatin in 2 tablespoons of cold water and let it swell for about 5 to 10 minutes.
In the meantime, using a saucepan bring the cream, milk and sugar to a simmer over medium-low heat. NOTE: do not boil.
When sugar has dissolved remove from the heat and add the vanilla extract.
Let cook for 5 minutes before adding the gelatin.
Add the gelatin in the milk mixture and stir until well combined and the gelatin is completely dissolved.
Tip: Grab a muffin tin and a kitchen towel. Arrange the kitchen towel over the muffin tin. Practice placing the glasses in a tilted position.
Pour the vanilla cream mixture into each serving glasses.
Refrigerate until it sets, for about 4 hours or overnight.
In the meantime wash the strawberries, drain well, remove leaves and cut into quarters.
Strawberry Sauce
Bring to a simmer and remove from the heat immediately.
Pour into a blender and process the mixture to make a smooth sauce.
Pass through a strainer to remove the seeds out of the sauce.
Cover and let it cool to room temperature.
Refrigerate until ready to serve.
Before serving pour the strawberry sauce over the vanilla panna cotta and enjoy!
I consider this dessert perfect for any time of the year, specially if you live in Florida like me. Our weather is warm year round. This strawberry vanilla panna cotta is refreshing and you can always change the fruit sauce from strawberries to other berries, cherries, peaches or apricots. This is a wonderful dessert to make when you are having guests over. It is elegant, perfect individual serving and looks like it took much longer to make than it actually does. Making you the hostess with the mostess!
If you make this recipe, I'd love to see pictures of your creations on Instagram, Facebook and Twitter! Hashtag them #mysweetzepol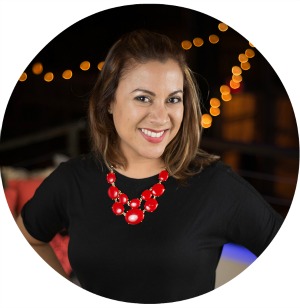 Hi there! I'm Wanda – the creator and author at My Sweet Zepol a healthy food, travel, and lifestyle blog. Passionate about food photography, food styling, entertaining and advocate about creating memories around the kitchen table. With a mission to create easy-to-make meals for the busy family.