Cookies are the perfect treat. Weather you have a cookie jar in your counter or an airtight container designated for cookies, there is nothing like keeping it stocked up at all times. Family and friends know that in my house they can always find a cookie for them. With coffee, tea or the classic tall glass of cold milk; cookies are good anytime.
This biscoff blossom cookies are my take on the well known peanut butter blossoms. Can you imagine giving biscoff creamy spread even more twists? I can and you will see more recipe here including this creamy delicious spread that I can't get enough off.
Biscoff Blossom Cookies
Yield:
about 2 dozen cookies
Biscoff cookies with a chocolate center making it not only beautiful, but extremely addictive. You will want to make this cookies over and over again.
Ingredients
1/2 cup Shortening
1/2 cup Biscoff Creamy Spread
1/2 cup Sugar
1/2 cup Brown Sugar
1 teaspoon Baking Powder
1/8 teaspoon Baking Soda
1 Egg
2 tablespoons Milk
1 teaspoon Vanilla Extract
1 3/4 cups All Purpose Flour
1/4 cup Sugar, to roll cookies in before baking
Milk Chocolate Stars
Instructions
Heat oven to 350 degrees.
Using an electric mixer, combine shortening and Biscoff until smooth.
Add sugars, baking powder and baking soda until well combined.
Beat in the egg, milk and vanilla extract.
Finally add the flour.
The dough will come together.
Shape dough into 1 inch balls.
Roll balls in the 1/4 cup sugar to coat.
Place balls about 2 inches apart in an ungreased cookie sheet.
Bake for 10 to 12 minutes or until edges are firm.
Immediately press a chocolate star into the center of each cookie.
Transfer cookies to a wire rack and let cool.
Grab a glass of cold milk and enjoy!
Biscoff creamy spread is going to become your favorite spread. Just taste it and you'll see what I'm raving about. So good!
My daughters love taking cookies to school for snack time. My husband loves to treat himself to cookies with milk before bedtime. I like calling a friend over for some coffee and cookies, always appreciated. What is your favorite way to enjoy cookies?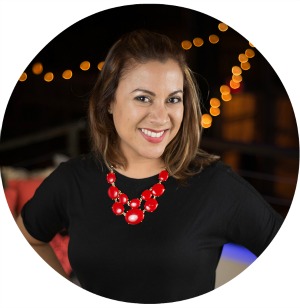 Hi there! I'm Wanda – the creator and author at My Sweet Zepol a healthy food, travel, and lifestyle blog. Passionate about food photography, food styling, entertaining and advocate about creating memories around the kitchen table. With a mission to create easy-to-make meals for the busy family.